This week's infographic comes to us from the True Colors Fund, an organization aiming to raise awareness about and help bring an end to gay, lesbian, bisexual and transgender youth homelessness. Today, Wednesday 27th April 2016, is 40 to None Day, a day to raise public awareness about LGBT* youth homelessness. Approximately 40% of youth experiencing homelessness identify as lesbian, gay, bisexual, or transgender (LGBT), yet LGBT young people make up less than 7% of the general youth population. The goal of 40 to None day is to ultimately reduce this disproportionate percentage from 40% to none.
*"LGBT" is the acronym used by the True Colors Fund. In Canada, the acronym "LGBTQ2S" is more commonly used to refer collectively to lesbian, gay, bisexual, transgender, queer, questioning, and 2-Spirit identified youth.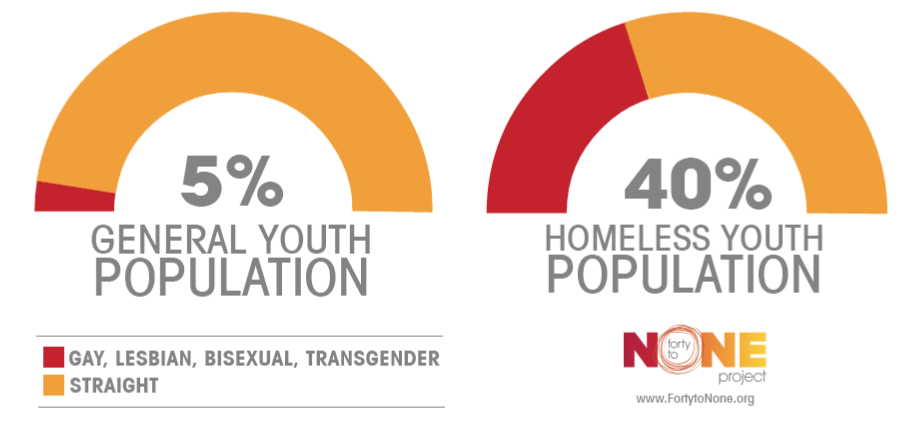 The figures in this Infographic come from a report funded by the True Colors Fund, the Palette Fund and Williams Institute, three organizations dedicated to the advancement of LGBT equality.
Serving Our Youth presents data from The Lesbian, Gay, Bisexual, and Transgender (LGBT) Homeless Youth Provider Survey, a web-based survey that sampled over 350 youth living in critical housing conditions that were receiving services from local agencies. Approximately 40% of the survey respondents identified as LGBT. The report also made note that "youth may not be willing to self-identify as being LGBT when initially presenting for services" and as such, this data may underestimate the proportion of LGBT youth served by homeless youth providers.
Family rejection based on sexual orientation and gender identity was the most frequently cited factor in the report contributing to LGBT homelessness. Many youth experience homophobia and transphobia at home and in school, and due to gaps in knowledge and a lack of reported incidents, discrimination against queer and trans youth remains largely invisible to shelter workers. Funding, to meet the unmet needs of underserved homeless populations and to continue to provide services to currently funded groups, is largely dependent on community support and committed advocacy.
Although this study was conducted in the US, LGBTQ2s youth are also overrepresented among Canadian homeless populations. 20% of youth in Toronto's shelter system identify as being LGBTQ2s, meanwhile only approximately 5-10% of the general population identify as members of the community. Research has shown that LGBTQ2s youth are at higher risk for victimization and associated negative health and mental health outcomes. Further, many youth do not access support services due to issues regarding homophobia and transphobia in the shelter system and drop-in programs.
Surveys of LGBTQ2s youth highlight the need for specialized services for this subpopulation. Failure to account for the unique needs of homeless LGBTQ2s youth is likely to perpetuate and further exacerbate existing problems.  40 to None Day aims to shed light on the issues faced by LGBT youth experiencing homelessness on social media through the hashtag #40toNone. To find out more about the campaign, visit the True Colors Fund website.
Do you have any questions about LGBTQ2S youth homelessness? We're hosting an Ask Me Anything on the Community Workspace on Homelessness. We encourage you to post your questions in advance of the AMA. Log in and post your questions on the LGBTQ2S thread. Experts David French and Dr. Alex Abramovich will answer your questions on Monday, May 9th at 1PM.