This week's infographic, published by Homeless Link UK, takes a look at the findings from the organization's Young and Homeless 2014 report. Homeless Link supports organizations that work directly with individuals living in homelessness in the United Kingdom. Their services include consultation with organizations to help improve existing programs. Like the Homeless Hub, the organization also has a strong focus on knowledge dissemination and translation, in hopes of working towards long-term solutions to homelessness. Findings presented in the infographic come from results of a survey completed with over 200 local authorities and service providers in the United Kingdom.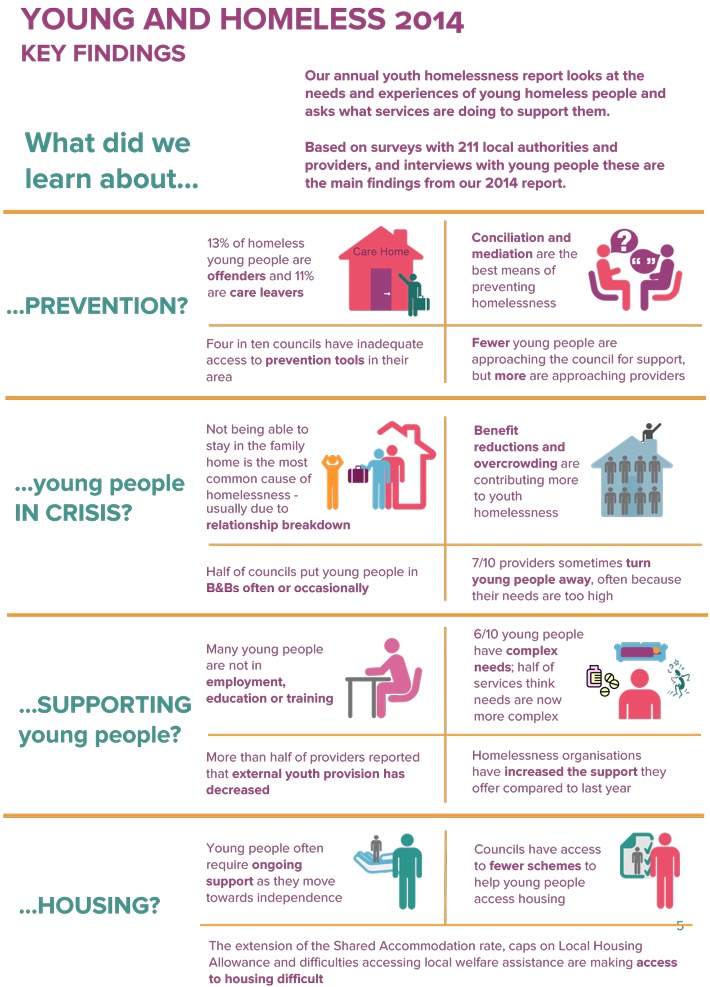 The infographic states that being unable to stay in the family home, often due to relationship breakdown, was the most common cause of homelessness among youth surveyed. Many youth find themselves living in homelessness because of relationship difficulties in the home setting. Conciliation and mediation, in turn, were identified as the best means of preventing homelessness. A common strategy for youth who are at risk of becoming homeless is a family reconnection case management approach which focuses on resolving conflicts between young people who have left home and their caregivers. Early interventions into the lives of youth at risk of entering homelessness can be understood as a preventative measure against chronic homelessness.
The infographic also states that 11% of youth are care leavers. In Canada, childhood placement in foster care corresponds with an increase in the length of an individual's homelessness experience and an increased risk of becoming homeless when compared to people who have not been in foster care. This is partially because once youth age out of foster care, they find themselves without proper supports and adequate guidance.
In the absence of policies and programs that bridge these gaps, many youth find themselves at risk of involvement with the criminal justice system and homelessness, resulting in high long-term costs for these youth and the communities they live in. A recent cost-benefit analysis conducted by Ontario's Provincial Advocate for Children and Youth found that effective reforms for Ontario youth in care would cost up to $26 million, and save $132 million on the costs of welfare and jail over four decades. This amounts to a net benefit of $106 million for investing in supports and services for youth aging out of care. Making these improvements to the system can also be understood as a form of homelessness prevention.
While public knowledge and awareness has improved in recent years, there remain barriers to accessing and receiving adequate services and supports for homeless youth. Awareness about the issue can play a critical role in directing public policy to address youth homelessness, both in Canada and abroad. Youth living in homelessness need guidance and opportunities like any other young people transitioning to adulthood. In order for change to be realized locally and globally, there needs to be buy-in not only from activists and researchers, but also widespread societal commitment to the support and empowerment of these youth.