Poverty is an issue that needs to be addressed through investments in the right supports. There are common structural gaps in our social safety net that indicate the absence of adequate supports. These gaps include adequate access to healthcare and nutritious foods, educational supports and affordable housing. The infographic below, published by the Government of Ontario as part of a report on poverty reduction strategies for 2014-2019, provides details on investments being made in affordable housing.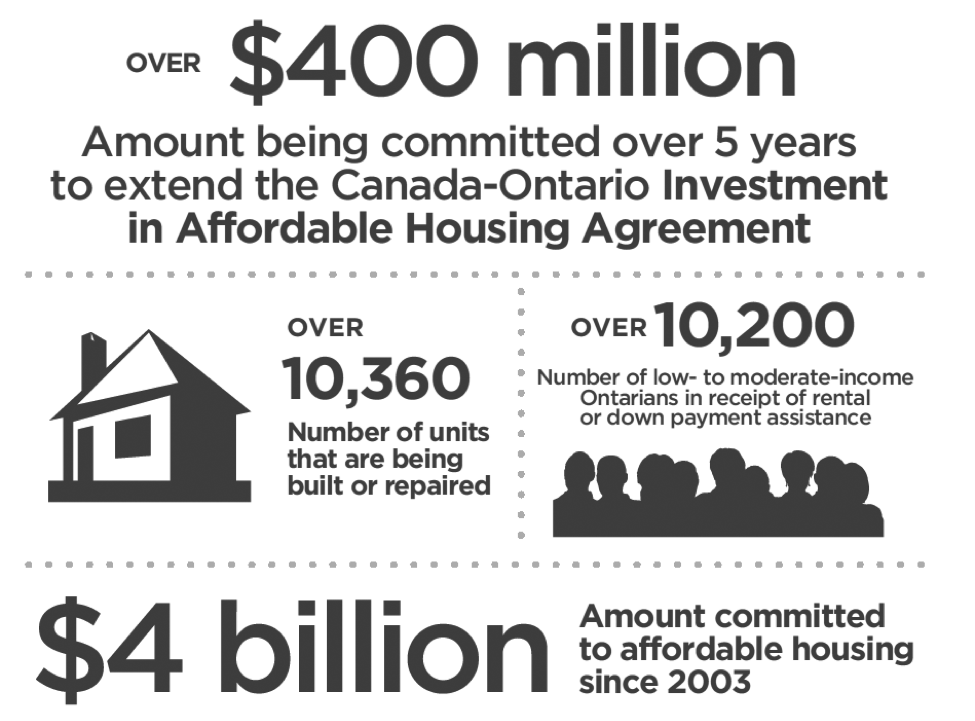 The numbers in the infographic provide us some details on government investment in affordable housing. The province plans to invest $400 million dollars over five years to extend the Canada-Ontario Investment in Affordable Housing Agreement. The agreement was a joint investment to build new housing and renovate existing affordable housing. While these numbers provide us with a way to be optimistic about the future of affordable housing in Ontario, we have to ask two very important questions:
What does funding for affordable housing look like in Ontario, beyond the immediate future?
Do we have plans in place for affordable housing to be sustainable in the long-term in Ontario?
The future of affordable housing funding, even just a decade down the line, is far from clear. While the federal government's investment in the Affordable Housing in Ontario program demonstrates an interest in alleviating Ontario's affordable housing crisis, federal funding for the future of affordable housing in Ontario paints a stark picture. The graph below, published by the Ontario Ministry of Municipal Affairs and Housing, illustrates the planned decline in federal social housing funding to the province. It remains unclear how these funds will surface without support from the federal government.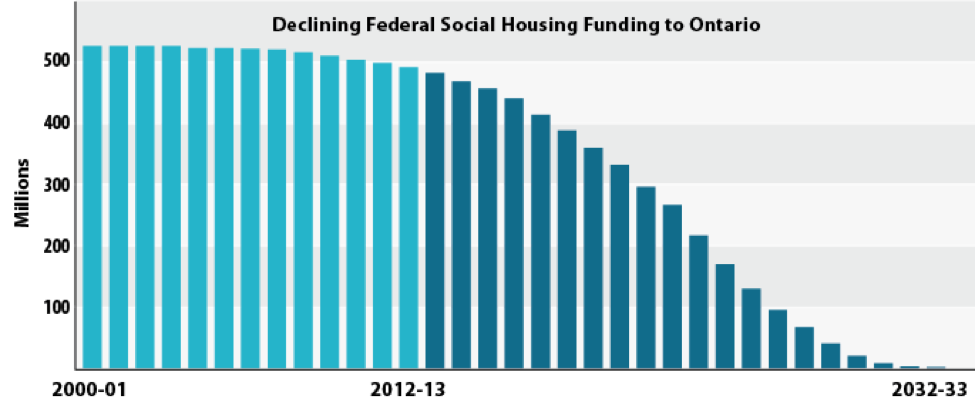 Source: the Ontario Ministy of Municipal Affairs and Housing.
The support of the federal government is crucial if Ontario is expected to be successful in tackling its affordable housing crisis. Federal-provincial partnerships are a large reason why Ontario has been able to construct over 17,000 housing units, repair existing housing units, and provide rental and down payment assistance to over 81,000 families in need. Furthermore, affordable housing has many social and economic benefits. It prevents homelessness, and is far more cost-efficient than having individuals live in hospital beds, long-term care beds, and beds at correctional facilities.
Perhaps the primary reason why removing federal support for affordable housing is so troubling is because it ignores the urgent need for more social housing options in Ontario. Wait lists for affordable housing are only growing.
Strategies that look to address poverty and affordable housing need to have a long-term focus.
The importance of spreading awareness about the importance of continued federal funding in long-term strategies extends beyond affordable housing, to issues including health, nutrition and homelessness. The plans that the federal government has for funding are not set in stone. Public support and advocacy for affordable housing can provide the necessary political will to make changes to current plans the federal government has for dropping funding for affordable housing programs in Ontario.