Across Canada, there is growing awareness about the need for provincial governments to step up in the fight against poverty. This week's infographic takes a look at poverty costs in Canada. The infographic was produced by Vibrant Communities Calgary and the Action to End Poverty in Alberta and draws data from a 2012 report published by both organizations.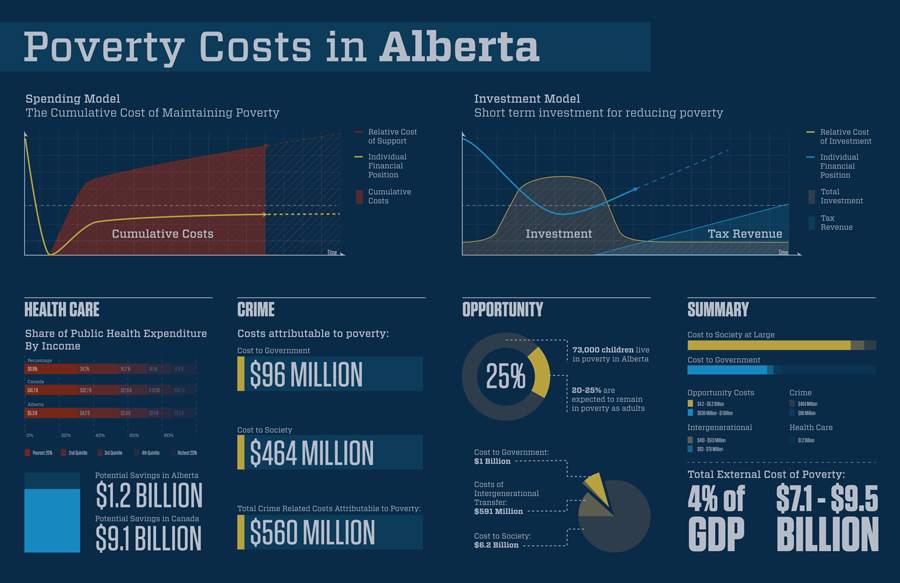 The infographic states that there are 73,000 children living in poverty in Alberta and up to a quarter of these children are expected to remain in poverty as adults. In the absence of supports and services that provide youth with a pathway out of poverty, children in poverty will not escape poverty as adults. This can ultimately result in intergenerational poverty.
Canada often commends itself on its social safety net. However, it is important to stay critical about just the effectiveness of our social safety net. It's worth noting that a recent report published by Public Interest Alberta states that child poverty rates in the province had dropped by less than a percent from 1989 to 2012. Canada's social safety net has been under attack in recent years, resulting in it being less effective in helping families move out of poverty.
While most people are aware of the moral arguments to fight poverty, they are less aware of the long-term economic costs associated with poverty for society at large. The infographic divides these costs into three categories: opportunity costs of $4.2-$6.2 billion, crime costs of $464 million, and intergenerational costs of $410-$513 million. Two things are worth noting here: (1) the costs to society at large are greater than the costs to society and (2) opportunity costs are the highest expense.
Recently, Vibrant Communities Calgary and Action to End Poverty in Alberta published an updated report looking at what steps can be taken to alleviate poverty in Alberta. The document contains over 60 policy recommendations, and many of these recommendations are of relevance to other provinces. For example, the report highlights the need for new standardized quantitative and qualitative indicators to measure inequality and social exclusion. As it stands, there are many different measures used to estimate poverty levels, and most of these measures focus purely on income without taking into consideration the physical, social and psychological needs of citizens. Establishing such indicators would make it easier to develop and implement programming that target poverty, homelessness, food insecurity and other issues.
To help disseminate the findings of their 2012 report, Vibrant Communities Calgary and Action to End Poverty in Alberta produced a video that summarizes some of the key findings and strategies mentioned in the report.
Perhaps most importantly, the video emphasizes the value of taking a preventative approach. While preventative approaches require greater investment and commitment in the short-term, that's a small cost to pay for the long-term benefits associated with addressing the causes, rather than the symptoms, of poverty and homelessness. It's important to enact policy that is informed by the role that structural factors play in determining how resources and opportunity are distributed.