At Pivot Legal Society, we recognize that poverty and social exclusion are not inevitable. The laws and policies that target people who experience homelessness and/or use substances are deeply entrenched in stigma and discriminatory beliefs. 
Pivot is a non-profit organization based in Vancouver, on the unceded territories of the xʷməθkwəy̓əm (Musqueam), Sḵwx̱wú7mesh (Squamish) and Səl̓ílwətaʔ (Tsleil-Waututh) Nations. At the upcoming National Conference on Ending Homelessness, Pivot's Manager of Community Education, Meenakshi Mannoe, will describe key findings of Pivot's most recent report, Project Inclusion: Confronting anti-homeless and anti-substance user stigma in British Columbia. Project Inclusion is a comprehensive study into the ways in which specific laws and policies in policing, healthcare and the court system directly undermine the health and safety of people who are homeless and living with substance use issues. 
In each of our four campaigns, Pivot grapples with addressing discriminatory practices – like business improvement associations shutting down safe consumption sites, street checks conducted by police, bylaws that prohibit sitting or lying on a sidewalk in certain municipalities or moralistic concerns about sex work. Challenging stigma anywhere – whether drug policy, police accountability, sex work or homelessness – reveals the gnarled roots of discrimination. The conditions that give rise to discrimination are fundamentally connected to oppressive systems, including settler-colonialism, transmisogyny, racism, ableism, poverty and sexism. Root cause solutions require us to examine the social, political, economic and cultural conditions that impact people who experience homelessness and/or use substances. 
Project Inclusion details the impact of police and policing court-imposed conditions and social service gaps and barriers. Due to a complex web of polices, laws and bylaws, people who rely on public space and use substances are followed by a pervasive cycle of criminalization. Confronting these interlocking oppressions is overwhelming – especially for people who experience the harms of stigma and discrimination.
In order to address stigma and discrimination more systematically, Pivot is drawing from the scholarship of law professor Iyiola Solanke, who suggests we treat forms of discrimination like viruses and use social and collective action to tackle them. Informed by Professor Solanke's scholarship, Pivot developed the Stigma Audit, which can help organizations systematically identify, discuss and work to dismantle stigma. This audit outlines the impact of cultural power, economic power, political power and legal power. Analyzing power helps us make stigma visible and ensure we see intersecting, interlocking oppressions. To reveal power, however, the Stigma Audit must be foremost informed by people with lived experience, who can reveal the impact of discriminatory laws, policies or even common practices. People with lived experience bring knowledge and expertise that must form the basis of how institutions dismantle and discourage stigma-based approaches.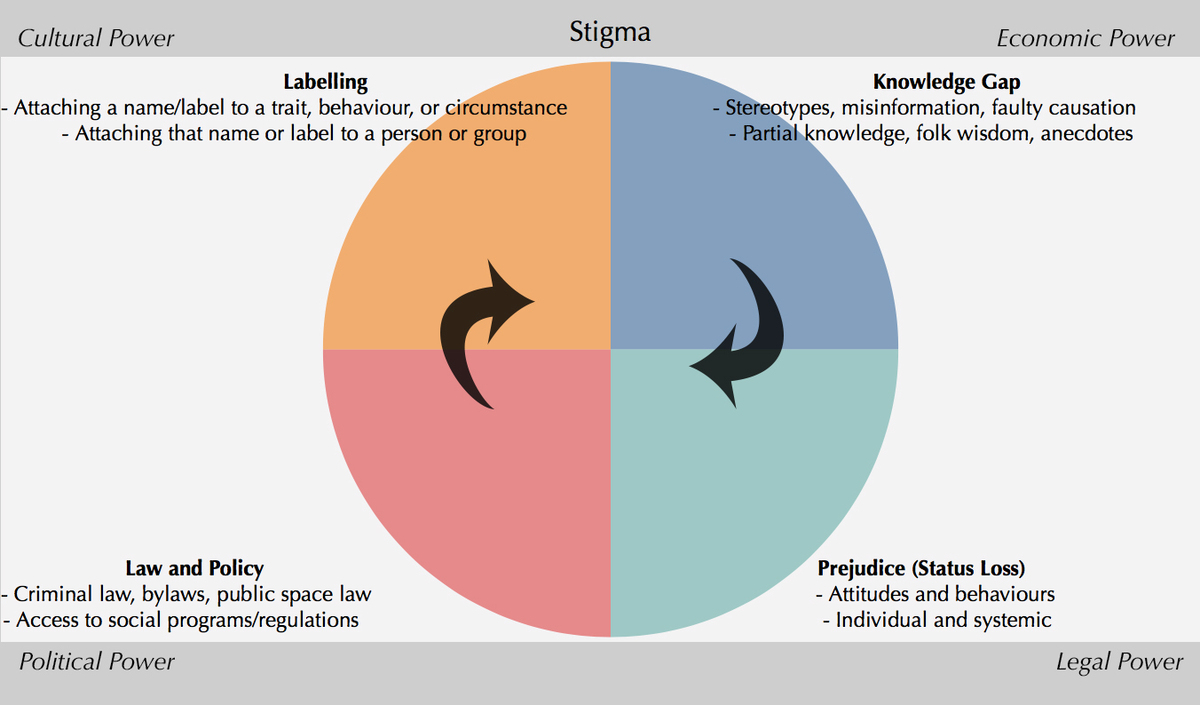 Following the release of Project Inclusion, Pivot has developed resources to meet the needs of communities we serve, including Know Your Rights: A guide for people who rely on public space. Our resources are designed to prioritize the needs of people with lived experiences of homelessness, participation in grey economies and/or everyday forms of criminalization.  
--
This post is part of our #CAEH19 blog series which highlights research on preventing and ending homelessness that is being presented at the 2019 National Conference on Ending Homelessness, Nov 4-6 in Edmonton, AB. Learn more about Meenakshi's work through her presentation within the Social and Structural Exclusion and Homelessness: From Belonging to Criminalization session on Tuesday, November 5th at 1:30 pm.