St. John's. Francois. Happy Valley-Goose Bay. Nain. There is more that separates these and other Newfoundland and Labrador communities than hundreds (or, in some cases, thousands) of kilometres. From the cosmopolitan urban life of St. John's to the boat-in only isolation of Francois; from the complex mix of Indigenous and settler cultures of Happy-Valley Goose Bay to the self-governing Inuit region stretching down the coast from Nain, lived experiences for young people in the province are incredibly diverse – as they are, more broadly, throughout Canada. How can we build a more responsive system of support for vulnerable youth that respects this diversity, and how can urban organizations effectively support this work in small, rural, and remote communities?
Those questions have been at the core of the conversations that Choices for Youth (CFY) has been having across Newfoundland and Labrador over the last 18 months. A comprehensive youth-services provider based in the capital city of St. John's, CFY operates a wide range of programs and social enterprises for youth aged 16-29 that include housing, outreach and health, employment, and family supports. Few organizations operate elsewhere in the province with a mandate to serve this population, forcing many youth to travel to St. John's for support. This means disconnecting themselves from critical support networks in the process – and making it far more difficult to make the preventative interventions we know are the way forward. 
With that in mind, CFY embarked on an effort both to expand its own programs to multiple locations across the province and to engage youth, service providers, government, Indigenous nations, and businesses in strategic approaches to these issues. This work is happening at a particularly exciting time in Newfoundland and Labrador, with the provincial government in the midst of an unprecedented shift in many of the systems that support youth. With major change underway in the mental health, addictions, education, child welfare, and housing and homelessness systems, Newfoundland and Labrador is on the cusp of emerging as a Canadian leader in its response to youth homelessness and its causes.
As an urban organization, CFY knew that the most important foundation to this work is to listen, and over the past 18 months has been doing just that, embarking on a comprehensive round of community consultations all across both Newfoundland and Labrador.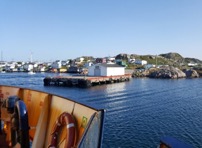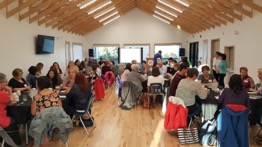 Left: Arriving by boat in Ramea, NL   Right: Service providers gathered in Grand Falls – Windsor, NL
Through these conversations, CFY met with more than 500 young people, more than 300 service providers and government leaders, and many representatives of Indigenous governments. The report, We Are Ready, brings together key points, including detailed profiles of every region of the province. 
These conversations, usually co-hosted with a local organization, took many forms: packing a Twin Otter full of pizzas for a youth workshop in Nain; sipping tea in the home of an elder in Sheshatshiu; a rowdy gym full of high school students in St. Lawrence; a boardroom full of government managers sharing their hopes and frustrations. Whatever the setting, there was space provided for people to share the unique dynamics of their communities, and for CFY to move slowly and deliberately to build trust. 
In June 2018, CFY took the next step on this road by hosting a major province-wide "Social Innovation Summit" in Happy Valley-Goose Bay, Labrador in partnership with A Way Home Canada. This summit brought together youth with lived experience, key leaders from community organizations that serve them, Indigenous leadership, youth, elders, all levels of government, and key leaders in the sector from across Canada. With the recommendations of the Truth and Reconciliation Commission front of mind, it was critical to bring an Indigenous lens to this event both by hosting it in Labrador and by providing space for the many Indigenous organizations to share some of their work with their colleagues. 
With over 100 delegates, the summit explored innovations for public policy, program design and service delivery across the areas of housing, employment, health and family to help create opportunities that enable success, are more inclusive, and focus on strengths. The key outcome at the end of it all - a short, simple, important document: a Statement of Principles, co-written by everyone in the room to capture the values and ideas that all our work with youth should adhere to, whether in the biggest city or smallest town.  The full set of principles, with explanations and definitions for each point, is available here.  There are 14 of them:
Recognize the distinct needs of young people and emerging adults
Reduce barriers 
Focus on prevention
Family-centered interventions
Youth choice and self-determination
Support for Indigenous youth
Support for LGBT2SQIA+ youth 
Harm reduction
Integrated services (integrated models of care) and coordinated access
Targeted supports for the most vulnerable
Trauma-informed practice
Support for youth and emerging adults with disabilities
Recognizing Intersectionality
Celebrating successes and strengths
Top left: Some signatories with their copies of the Statement of Principles
Top right: A qulliq (Inuit soapstone lamp) burns at the opening of the Social Innovation Summit
Bottom: Full-page ad placed in newspapers across Newfoundland and Labrador
Since the Summit, organizations and individuals across the province have been adding their names to the Statement of Principles, which is already being integrated into discussions around what our changed systems can and should look like. The same day that this blog is published, a copy of the statement of principles will be placed as a full-page ad in newspapers around the province. 
There is still much work to do, both for CFY and for others. The process of relationship-building with Indigenous communities must continue, as must the process of strengthening CFY's own understanding of what reconciliation means. Organizations around the province must take a long, thoughtful look at their work and how it could integrate with work being done by others, and with the systems change emerging from government. The Statement of Principles is itself a living document that will evolve as more organizations sign on and engage with it.
Taken together, though, a very big step has been taken towards a community-led strategic approach to some of the toughest issues we face. This approach recognizes that there is no one-size-fits-all solution to youth homelessness, and that young people's experience of these systems is impacted as much by the principles behind them as by the details of implementation.  The application of these principles could – and should – look different in different communities; that will be yet another way for all of us to learn together.