Much of the research on youth homelessness is conducted in larger cities such as Toronto, Calgary and Vancouver. But youth homelessness occurs across the country, in communities of every size. Is the experience of being homeless substantially different for youth in non-urban areas? Over the last year, I – along with a group of other researchers - had the opportunity to investigate just that in York Region. Today, we're excited to share our findings in the launch of our report, Leaving Home: Youth Homelessness in York Region.
The report, led by the United Way York Region and the Canadian Observatory on Homelessness, is the culmination of a community engagement process designed to raise awareness of youth homelessness and to explore potential solutions that work for the Region.
In an effort to better understand homelessness in York Region, we interviewed those who know it best – youth living, working and accessing services in the region. 60 youth experiencing homelessness generously gave their time and candidly shared their stories with us.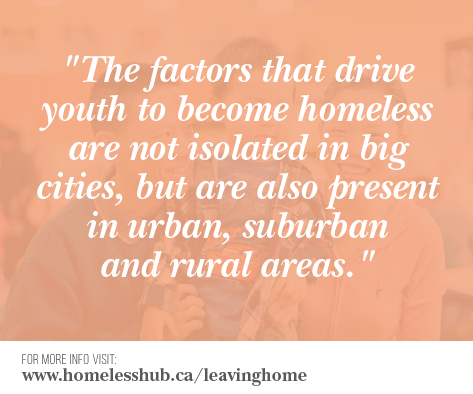 While many factors in youth homelessness in York Region are consistent with those found anywhere else, including reasons for becoming homeless, a shortage of shelter beds, and limited access to jobs and long-term housing, York Region faces some specific challenges. Our research team heard about these frequently during our interviews with youth and service providers in York Region.  Specific challenges include a geographically large region, limited public transportation and rental housing, few emergency shelter beds and fragmented and limited services overall.
York Region has nine municipalities – everything from highly populated suburbs to small towns to rural communities – spread out over 1762 square kilometers, an area about three times larger than Toronto.  While some of these communities have business districts and community hubs, there is no central downtown to house a collection of services, which can make it challenging for youth to find and access services. Most youth we interviewed had grown up in York Region. Some, like [Chris] had lived in various parts of the region:
I honestly lived all over. When I was living with my mom I lived in Richmond Hill and she also moved to Newmarket at one point and then…I lived up in Keswick and Aurora.
Transportation in the region is primarily by private vehicle, and roads are set up to accommodate this reality, making travel through the region difficult for those who cycle, walk or use public transit. With a large area and relatively smaller population, public transit is also limited, both in terms of routes and frequency and costly. This increases the difficulties for service providers and youth to connect and for youth to get to school and work, as described by one 25-year-old [Rob]:
It's hard to get around. Like, even when you get accepted to a job, how the fuck you gonna work every day if you don't have bus fare? You gotta work two weeks before you get paid. How you gonna buy lunch and get on the bus?
Rental housing in York Region tends to be scarce and expensive, with a majority of residences living in single-family suburban homes.  In Canada, almost 70% of residences are owner-occupied, while that number rises to nearly 90% in York Region. In a limited rental market, many youth find themselves at a serious disadvantage, as this 19-year-old  [Colby] explained:
I've been looking pretty hard the past two months. I've been to over 2 dozen appointments, open houses, talking to landlords…All the time it's been in my budget, they've just been like my request is denied or they just rented to someone else because they had the money right away or they don't want you to be on welfare or they don't like who I am, stuff like that…
Additional services, including mental health programs, are limited in the region, with long wait times and a need to access programs and services outside the region.  This is a source of frustration for both youth and service providers, who identified how important such help often was, as described by one 18-year-old [Andrew]:
[They] helped me get my feet back on the road…they stopped me from fighting, they stopped me…It's just a reminder that I'm a person, I'm not a tool you can just yell at and talk to and throw around…I'm a person.
This represents just a fraction of what we heard from youth and services providers. On the one hand, we heard stories about family struggle, poor health outcomes, frustration, and a lack of services. But importantly, we also heard stories of great resilience, remarkable service staff, caring parents and hopeful youth.
Our report made a number of recommendations, above all to adopt a plan to end youth homelessness and an integrated system response.  The good news? All signs suggest that the people of York Region are ready to act and in many ways, this has already begun.  There is a growing community of individuals and organizations who recognize the challenges, but also the opportunities. In the last few years, momentum has grown. The launch of this report, and the commitment of all those that were involved, is the Region's most recent step towards ending youth homelessness. It's safe to say, we're all excited to see what's next.