Overview: The Home in the City Project
There are diverse understandings and complex power relations within governance relationships. This is demonstrated through the intersectional communities formed among individuals accessing housing services, providing services, and advocating for services. The relationships that hold these communities together are impacted by formal and informal decisions about how we respond to community issues – this is what we call governance.
The Home in the City Project organized a series of community governance gatherings focused on building horizontal relationships and responding to conflict. The goal was to develop principles for shared decision-making while being conscious of the differences in participants' positionality and lived experience.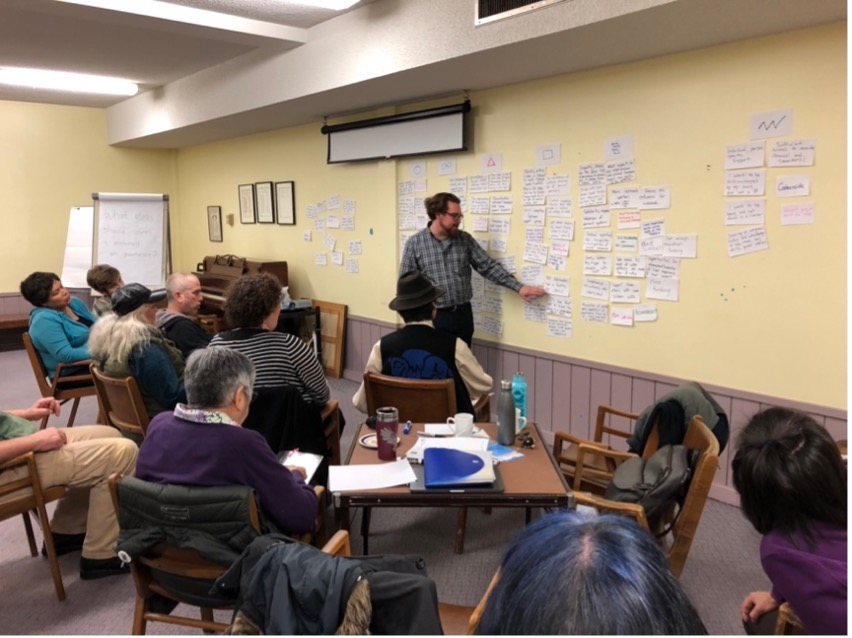 A diverse group of over 50 people gathered for the first meeting to draft a shared statement. They were dedicated to crafting a message that reflected the collective voice of the group. A sub-group of 35 people were part of a follow-up and review process. 
The group included advocates, service providers and people with lived and/or living experience of homelessness. Many of the participants identified as Indigenous peoples, which brought important perspectives to our discussions. The sessions were facilitated by Matthew Wildcat (Ermineskin Cree Nation) and myself, Renée Beausoleil (White settler) as part of my PhD research. The sessions were supported by the Greater Victoria Coalition to End Homelessness and the UVic Indigenous Law Research Unit.
Key impacts 
Through our workshops, we co-created The Victoria Declaration on Governance of Housing and Supports. The declaration is a set of principles and actions for collaborative governance in the housing community. The key principles and actions, which are explained further in the declaration include:
Guiding Principles
1.    Governance involves all of us
2.    Addressing inequities
3.    Meaningful dialogue
4.    Making community safety central to our work
5.    Inclusivity
Strategies to Move Forward on these Principles
1.    We start from what we know, but we have room to grow
2.    Nothing about us without us
3.    No unity without diversity, no diversity without unity
4.    Honouring where we are, belief in a new tomorrow
Actions
1.    Building long-term reciprocal relationships. Where possible, our services will be meaningfully informed by Indigenous laws governing relationships.
2.    Creating safe spaces and common ground for the benefit of all involved.
3.    Building the capacity to have dialogue that helps us make decisions together across differences.
4.    Moving beyond a political and economic culture of scarcity towards building a future based on shared resources and understanding.
5.    Creating a community that can work together to provide a variety of housing options that meet the needs of our diverse population.
6.    Fostering the kinds of relationships we will need to create the governance of housing and supports we envision.
Our process also led to a method of community-engaged governance, developed alongside The Victoria Declaration, that I refer to as "practical governance". This is when a researcher works with a diverse community to co-create governance resources. This method involves conversations about how individuals in the community can collaborate to make decisions together. It also builds practices of community decision-making into the process itself.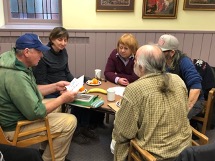 Project Updates
The Victoria Declaration was signed by the Greater Victoria Coalition to End Homelessness (GVCEH) Board of Directors on September 17, 2019, at the Annual General Meeting. Since then, GVCEH staff, including myself, Janine Theobald, and Inclusion Team Members have been putting the declaration to work in policy and practice. This was made possible through the "user-centered design" work, and recommendations for new and existing supportive housing sites and programs developed by the System Transformation Working Group, the Community Plan to End Homelessness in the Capital Region and Lived and Living Experience Council, and various other groups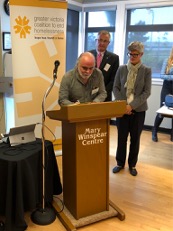 Since the signing on September 17th:
A community signing event was planned for April 2020. However, this was cancelled due to the pandemic and this part of the work has been stalled. 
In spring 2022, a group called Neighbours in Solidarity with Unhoused Neighbours (NSUN) catalyzed a declaration "reboot" to get more organizations to sign on and work towards implementation.
Greater Victoria Acting Together, has recently endorsed and incorporated the declaration's tenets into their housing campaign.
On September 29, 2022, the Victoria City Council passed a motion to endorse the declaration. 
The next step is to organize a gathering of signers in Spring 2023 to plan further implementation and co-create metrics to move beyond aspiration and to evaluate progress.
_____________________________________________________________________________________
This post is part of our #CAEH22 blog series which highlights research on preventing and ending homelessness that is being presented at the 2022 National Conference on Ending Homelessness, November 2-4 in Toronto, ON. Learn more about Renée and Janine's work through their presentation in the Reconciliation in Research and Practice session Wednesday, November 2nd at 1:30 pm.