Many young people become homeless because of challenges they have experienced with their families. According to the Without a Home study, approximately 63% of youth experiencing homelessness reported being abused as a child/teenager and 57.8% had involvement with the child welfare system. 
Despite this reality, 77.3% of young people experiencing homelessness have cited their desire to improve their relationships with their families. 
While many youth experiencing homelessness have complicated relationships with their families, maintaining family connections is important for improving youth's well-being, enabling their growth and providing housing stability. The Family and Natural Supports (FNS) approach to preventing youth homelessness was developed to help strengthen youths' relationships with family and other meaningful adults in their lives ​​so they are better equipped to stay in school or access training and employment as they move into adulthood.
In this blog, we explain what the FNS approach is and its core principles. 
What is the Family and Natural Supports Approach?
FNS is an approach that targets young people between the ages of 13 and 24 who are at risk of experiencing homelessness or who have experienced homelessness in the past. It focuses on improving the youths' relationships with their families and other important adults in their lives. The title of the approach includes "natural supports," because the definition of family varies based on each individual's experiences and cultural understanding of the word. This allows the young person to define what family means to them.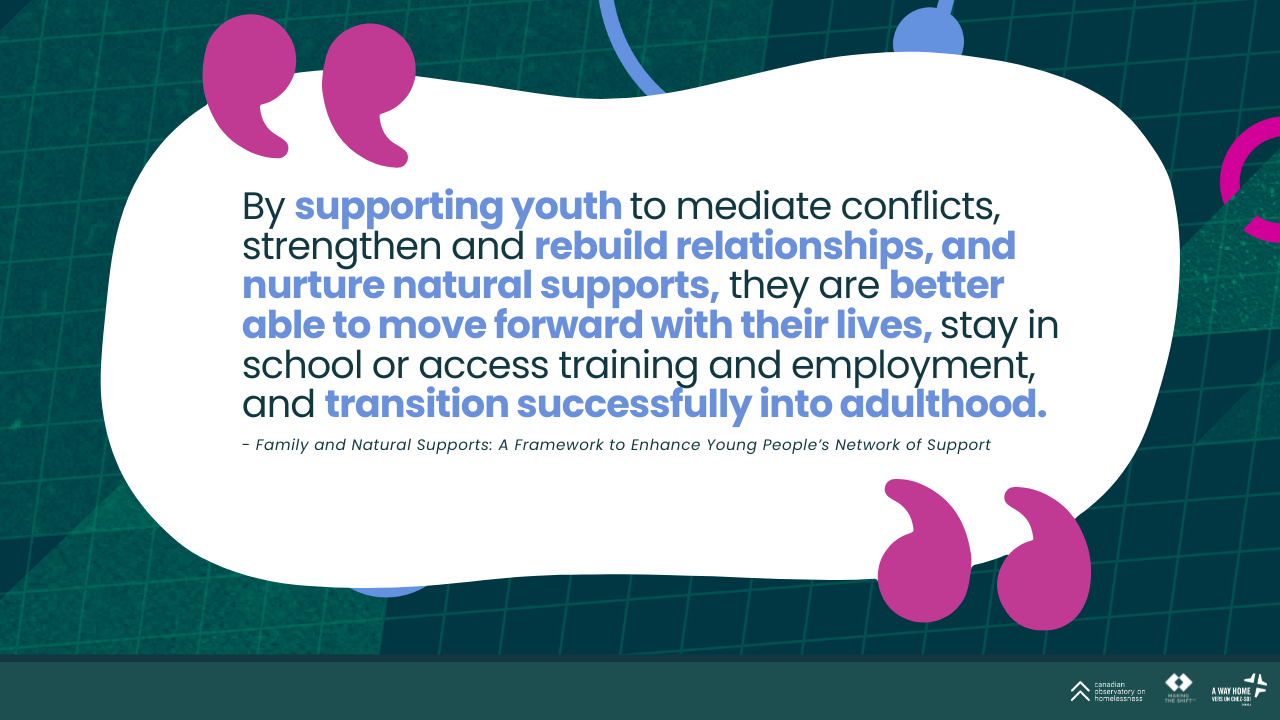 FNS was built on the belief that young people require guidance from their families and natural supports to develop a sense of belonging and social inclusion. While their relationships with their service providers can be transformative and long-lasting, young people require long-term connections to be successful in transitioning into adulthood. 
One study found that young people who returned home to live with their parents after living in a shelter experienced various positive outcomes including:
Decreased likelihood to run away 
Improved school status
Higher self-esteem
Improved relationships with parents relative to youth discharged to other locations
It is crucial that a young person at risk of or experiencing homelessness has various other connections within the community even if re-connection with family or natural supports is made, because it:
Helps avoid dependency on one person
Creates opportunities to practice developing and maintaining relationships
Creates a sense of belonging/social inclusion
Core Principles of Family and Natural Supports
The FNS approach has five core principles. These core principles dictate how this approach should be implemented and function as a standard to strive toward when measuring fidelity.
These principles were adapted from the Change Collective's Working with Vulnerable Youth to Enhance their Natural Supports: A Practice Framework as well as data from the Making the Shift FNS Demonstration Projects. They are also aligned with the Housing First for Youth core principles and other youth-focused interventions, such as the Wraparound Initiative.
The five FNS core principles are:
Connection First - Relationships are as essential as physical needs, such as food, shelter, and clothing. This principle recognizes that all young people have a right to access services without preconditions or having to demonstrate that they are "ready" for service.
Youth and Family at the Centre -  The FNS approach supports the whole family (as defined by the young person), meaning that family members and natural supports who consent to receive services are also considered participants. It is essential that the youth leads the work and FNS staff follow their lead. 
Autonomy and Accountability Go Hand in Hand - Youth must be given the ability to make their own informed decisions and the freedom to make mistakes. 
Skill-Building that Leads to Growth - FNS  takes a "positive youth development" orientation – a strengths-based approach that focuses on building assets, confidence, and resilience while addressing risks and vulnerabilities that youth may face. For this reason, the FNS model supports youth and their families and natural supports to work through the challenges in their relationships so they are able to develop and maintain healthy relationships and rely on professional supports less frequently in the future. 
Individualized, Flexible, Non-judgmental Practice - To foster a safe environment, all FNS workers must engage youth and their families in a non-judgmental and compassionate manner. Because 2SLGBTQ+, Indigenous, racialized, and newcomer youth can experience heightened social isolation, it is important that staff are trained in cultural competency and are able to connect young people with culturally appropriate supports. 
Implementing the FNS Approach in Your Community 
FNS is a key component of a larger systemic shift away from emergency service provision and instead toward the prevention of youth homelessness. Of note, FNS can be delivered as a stand-alone program, offering supports directly to youth, family, caregivers and siblings and it can also be applied as an overarching philosophy across your organization which influences how you work in this manner across a continuum.
Download Family and Natural Supports: A Framework to Enhance Young People's Network of Support for considerations for implementing FNS in communities and case examples of what this work can look like in practice. 
You can also check out the FNS resource collection on the Homelessness Learning Hub to learn more.
Note: This blog has been adapted from Family and Natural Supports: A Framework to Enhance Young People's Network of Support (2020) authored by Meryl Borato, Stephen Gaetz, Lesley McMillan.