Communities across Canada are promisingly moving towards eliminating homelessness. Provinces such as Ontario, Quebec, Alberta, and Newfoundland and Labrador have put together strategies to end homelessness. Locally, Medicine Hat is gaining attention for ending chronic homelessness. But what does ending homelessness mean and how do we know we've ended it? Now, we're beginning to answer that question.
In a major step forward, we, along with the School of Public Policy at the University of Calgary (SPP) and the Canadian Alliance to End Homelessness (CAEH) have released Canada's first definition of ending homelessness.
The definition is the result of a multi-year effort, including a rigorous literature review, interviews with individuals with lived experience, several working papers and a national consultation process where policy-makers, service providers, advocates and people who have experienced homelessness provided their expertise. 
In celebration of this collaborative process, we wanted to take this opportunity to acknowledge the contributions of all those that provided input. It is through the expertise of others that we are able to launch a definition that reflects the priorities, perspectives and commitments of those working to end homelessness across Canada.
Who we heard from
In the summer of 2016, we launched a consultation to seek feedback on a proposed definition of ending homelessness found in the working paper "Discerning 'Functional Zero': Defining and Measuring an End to Homelessness in Canada." We received a tremendous amount of feedback. 
We received 158 online survey responses, of which 42 were from people with lived experience.  A further 43 participants took part in two virtual town halls. We also received written responses from the Government of Ontario, Region of Waterloo, and Edmonton Homeward Trust, and the Guelph & Wellington Task Force for Poverty Elimination.
What we heard
Unquestionably, there was support for a national definition of ending homelessness. 94% agreed that Canada should strive towards a consistent definition of homelessness. As well, 93% agreed that a consistent definition of ending homelessness would improve local responses to homelessness.
However, respondents also identified gaps in the proposed definition. Many noted that a Canadian definition of ending homelessness should include both Functional and Absolute Zero. That is, Functional Zero and Absolute Zero should not been seen as mutually exclusive, but that Functional Zero is progress towards a true end to homelessness.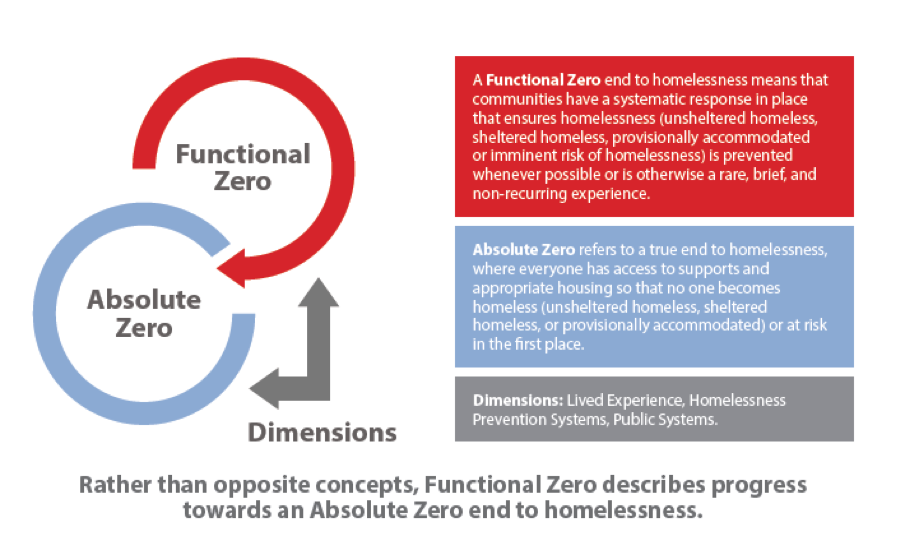 Towards Implementation
Despite general support for a common definition, respondents indicated varying levels of community readiness. Fortunately, respondents provided a number of helpful suggestions to support the implementation of the definition. These include:
Developing communication material for the general public;
Continuing knowledge dissemination to communities;
Providing technical assistance to support local implementation;
Developing consistent data-collection tools to support the definition;
Partnering with Indigenous communities to refine the definition; and
Translating the definition and supporting materials into French. 
Based on this feedback, the Canadian Observatory on Homelessness is exploring options and partnerships to develop resources and provide support to communities seeking to implement the definition.
What's next
The launch of the definition does not mark the end of this collaborative process. As the Government of Canada moves closer to a National Housing Strategy, of which ending homelessness is a key priority, we encourage you to consider, discuss and promote the definition. Collectively, we can ensure that a commitment to end homelessness is not an abstract promise, but a measurable and attainable goal.
As the definition notes: "The indicators provided are envisioned as a starting point for dialogue and will be refined on a go-forward basis." We encourage you to contact us if you have further feedback or suggestions on how to support communities to adopt the definition locally. 
We've also started a discussion about the definition on the Community Workspace on Homelessness; there you can join the conversation with over 1600 experts on homelessness.