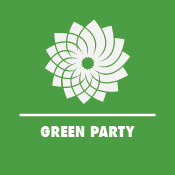 The Green Party of Canada released its housing platform for the 2015 federal election on August 25th 2015. This analysis is based on that platform, press releases, a June 23rd policy backgrounder, as well as questions sent by email responded to by the national party.
The Green Party National Housing Strategy outlines a very clear and comprehensive housing platform that aligns very closely with the State of Homelessness: 2014 report.
"We will unleash an army of carpenters, contractors, and electricians to increase home energy efficiency, saving Canadians money on their heating and electricity bills…It's time the federal government gets back into the business of investing in social housing, instead of offloading its responsibilities onto cash-strapped municipalities," - Elizabeth May, Green Party Leader.
The press release announcement of the plan summarizes it in this way: 
The Green Party will create and implement a National Housing Plan to provide every Canadian with a place to call home. The Green Party's plan is to:
Develop a National Housing Strategy through the Council of Canadian Governments. Canada is the only country in the OECD without a housing strategy. Any coherent plan must include concrete steps for a seniors' housing plan, a First Nations plan, a plan for social housing, and for affordable market housing;
Create a Housing First Approach, a one-on-one outreach initiative that houses chronically homeless people and provides immediate support;
Dedicate funding to the co-operative housing sector to enable more new affordable housing projects to proceed, while extending funding for co-ops whose contracts with the federal government are expiring;
Retrofit all Canadian homes by 2030 to increase energy efficiency, cut heating and electricity bills, and reduce 80% of building emissions by 2040;
Implement a Guaranteed Livable Income to help low-income Canadians and youth reach their dream of affording a home;
Eliminate Stephen Harper's Immigrant Investor Venture Capital Pilot Program, which currently allows foreign investors to purchase Canadian properties and can drive housing prices up for Canadian families beyond their reach;
Increase access to social housing for First Nations on and off-reserve, while strengthening enforcement of living and maintenance standards through our proposed Council of Canadian Governments; and
Ensure a percentage of all newly built units are reserved for affordable housing.
The June policy backgrounder includes a comprehensive statement on housing raises several key points related to housing:
The federal government has to get back into the business of social housing. The Green Party supports increased and sustained federal funding for social housing. We have to do better to deliver a system that allows Canadians of all circumstances to access decent housing at a manageable cost.
Housing shortages remain critical. An essential component of a strategy to mitigate poverty and inequality is to ensure access to a sufficient stock of affordable housing and to take aggressive steps to eliminate homelessness. 
The Green Party supports increased and sustained federal funding for social housing and a greater commitment to building on the innovative Housing First outreach initiative "At Home/Chez Soi" for homeless Canadians.
In order to really make progress on eliminating homelessness, however, it will require much more investment in affordable housing. This means both maintaining and substantially increasing federal spending for social housing from its allocated fiscal base of $1.6 billion today. 
Expanding the actual stock of affordable housing has to focus on rental housing, however desirable the goal of promoting home ownership may be. The tax system should restore the favourable treatment once in place for purpose-built rental housing. To expand affordable rental housing, consideration should be given to a low income housing tax credit.  
"For too long, housing advocates, activists, researchers and others across Canada have drawn attention to the fact that we are the only G8 country without a National Housing Strategy. It is well past time for action. As the Green Party's Critic for Urban Affairs and Housing, I feel the case for a National Housing Strategy is rooted in the moral obligation of responsible government to be just that, responsible. Responsible for providing those basic things that the market can't, like affordable housing, education and healthcare. But there is also an economic case. As recent studies here and examples around the world have shown, it costs taxpayers just as much to 'manage' homelessness by relying on first responders, hospitals, and other public services, as it does to adequately house someone who has suffered through the plight of chronic homelessness. The Housing First approach works." - Green Party's Urban Affairs and Housing Critic Wes Regan