CHT: There are 12 direct staff members in the ROP Program –two Team Leaders and 8 Youth Workers (four on overnights and four day/evening), the Mentor Coordinator and the Life Skills Coordinator. Support is also provided by the two Housing Workers and aftercare is addressed in part by the five Youth in Transition Workers. At the senior management level, the Director of Program Services is responsible for a variety of services, including outreach, shelter, health and transitional housing, while the Transitional Housing Manager is responsible for all transitional housing, including the Rights of Passage program and off-site transitional housing.
While all Youth Workers provide ongoing support to the youth, including teaching life skills, individual case management is provided by a Consistent Worker.
The Consistent Workers rotate between the day (8am to 4pm), midday (12noon to 8pm) and evening (3pm to 11pm) shifts to make themselves available to the youth at different times of day. These shifts change every two weeks and Youth Workers also work every other weekend. Overnight staff (who work 10:30pm to 8:30am) do not serve as Consistent Workers, but at times, their hours may mean they have primary contact with a youth. 
Consistent Workers have a caseload of about 7 youth each, with a mix of genders. Their role is to provide very direct, individualized support to the youth in their caseload, including developing and managing their case plan, creating a budget and determining their Trust Fund payment, keeping them on track with employment, education, housing, mental health issues etc. Consistent Workers also meet weekly with the youth to review and update their case plan and discuss a youth's progress with the Team Leaders.
The Team Leaders have multiple functions including supervising several youth workers and also providing oversight into the case management plans of a number of youth.  Dillon Dodson, one of two Team Leaders at CHT says that she sees her role as having three different functions. "The first role is supervision and case management of the current residents within our program. The second being supervising staff – the child and youth workers that work front-line with the residents of the program. The third role is a bit of program coordination. Myself and my colleague coordinate the IT issues, food services, operations, the management of the facility."
All of the youth and staff are additionally supported by several other positions including:
Mentor Coordinator
Life Skills Coordinator
Housing Workers
Youth in Transition Workers
Covenant House Toronto Staffing Chart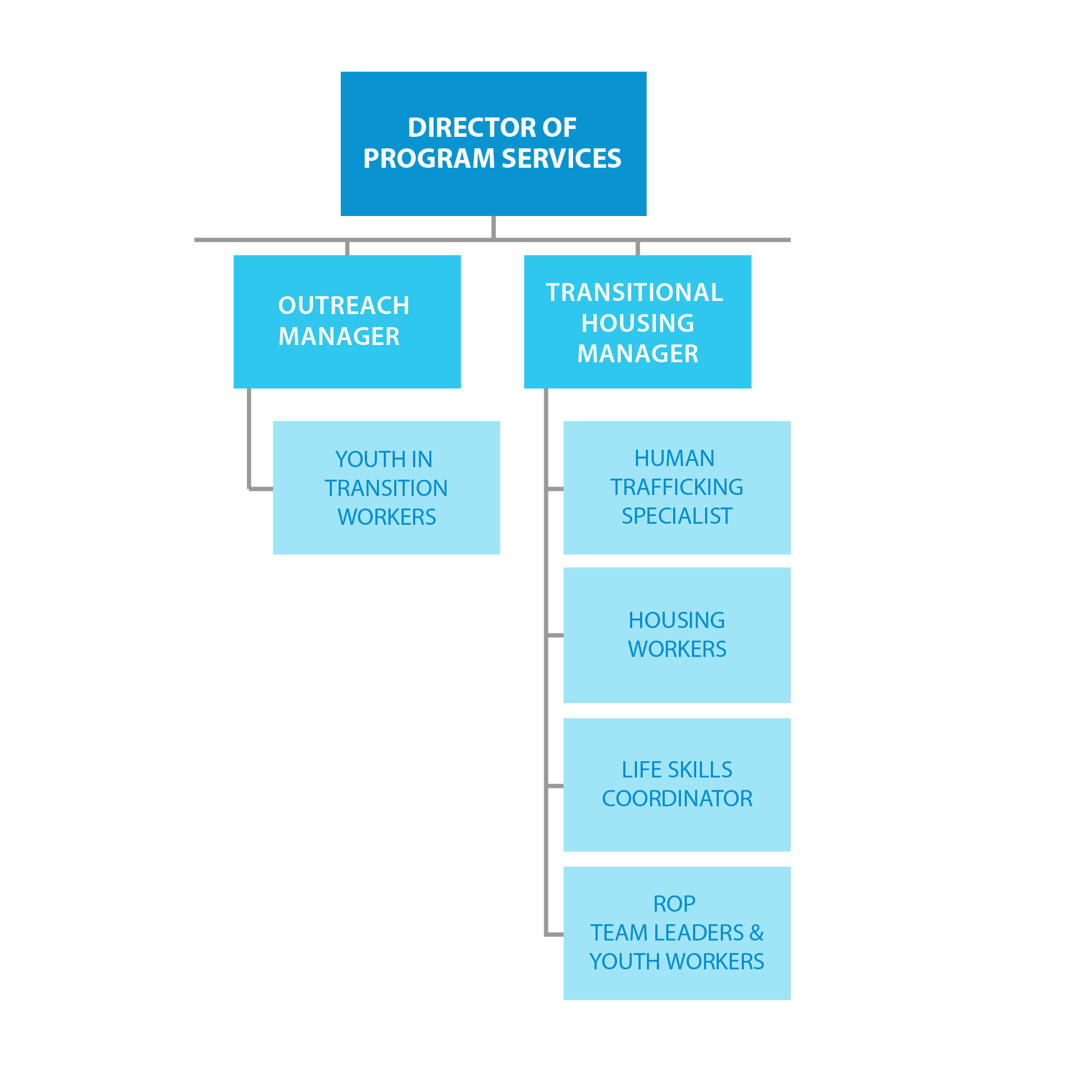 CHV: There are 13 direct staff in the ROP Program – the Manager of ROP, 5 Youth Workers, 5 Shift Supervisors, a Youth Support Worker and the Life Skills Worker – plus support from the Case Managers and Housing Workers who fall under Community Support Services.
The ROP Participant Guide says "ROP has staff on duty 24 hours per day, 7 days per week. At first, it may seem like a lot of different people, but you will find that the full-time staff work fairly consistent schedules, and it does not take long to get to know everybody. We also have staff who work on a casual basis, filling in when others are away.
Youth Workers are your main resource when you need practical help, information, or just to chat. They make sure that guidelines are being followed from day to day.
You will be assigned a Key Youth Worker as you enter ROP. This is the Youth Worker who will be watching out for you to make sure everything is on track. This Youth Worker will assist you to achieve all of your Case Plan and Life Skills goals. Keep in mind that all of the staff work with all of the residents, so for most things you do not have to wait for your Key Youth Worker.
The Youth Support Worker does a lot of the same work as the youth workers, but is also the person who is responsible for making sure that the rooms are in order when you move in, everyone has the supplies that they need, keys and fobs, and so on. The Youth Support Worker is in charge of program fee administration, but you can pay your program fees to any youth worker as well. The Youth Support Worker provides such services as income taxes and arranging dentist appointments.
The Case Manager is responsible for developing all case plans and making sure that all of the case plans are done in a way that fits ROP's purpose and mission. Case Managers are here to support the youth in reaching all of their goals. 
The Life Skills Worker is responsible for assessing your life skills needs with you and developing a plan to work on areas for development. They also coordinate and manage all life skills activities in ROP. 
Covenant House Vancouver Staffing Chart
There are also several other positions related to ROP as well as maintenance, administrative and leadership functions that are connected to the operation of Covenant House as a whole.
The Director of Program Services (who reports to the Executive Director) oversees ROP and four other areas (Quality Assurance, Community Support Services, Case Management and Crisis Shelter). This position also has a full-time administrative assistant. 
The Manager of the Rights of Passage program is responsible for the overall function of the ROP program. As of January 2015 this position had 12 reports – 5 Shift Supervisors, 5 Youth Workers, 1 Life Skills Worker and 1 Youth Support Worker.
Within the ROP program there are 5 Case Managers, 2 Housing Support Workers and 3 Mental Health Clinicians who may also be involved with the youth.
Once the youth leave ROP they may continue to have contact with services, especially if they are 25 and under. This could include outreach services, mental health clinicians and housing support workers. They may also continue to reach out to the staff of ROP.
Within the organization, the staff will work in varying capacities with people from all across the organization.