This week's infographic comes to us from Mission Australia, a faith-based organization that works to reduce the prevalence of homelessness by providing support to communities across Australia. The organization offers access to services that are of the utmost importance for individuals who are trying to improve their living circumstances, including employment services and educational supports. Mission Australia also helps individuals find housing and develop life skills. The organization emphasizes both intervention and prevention-based approaches.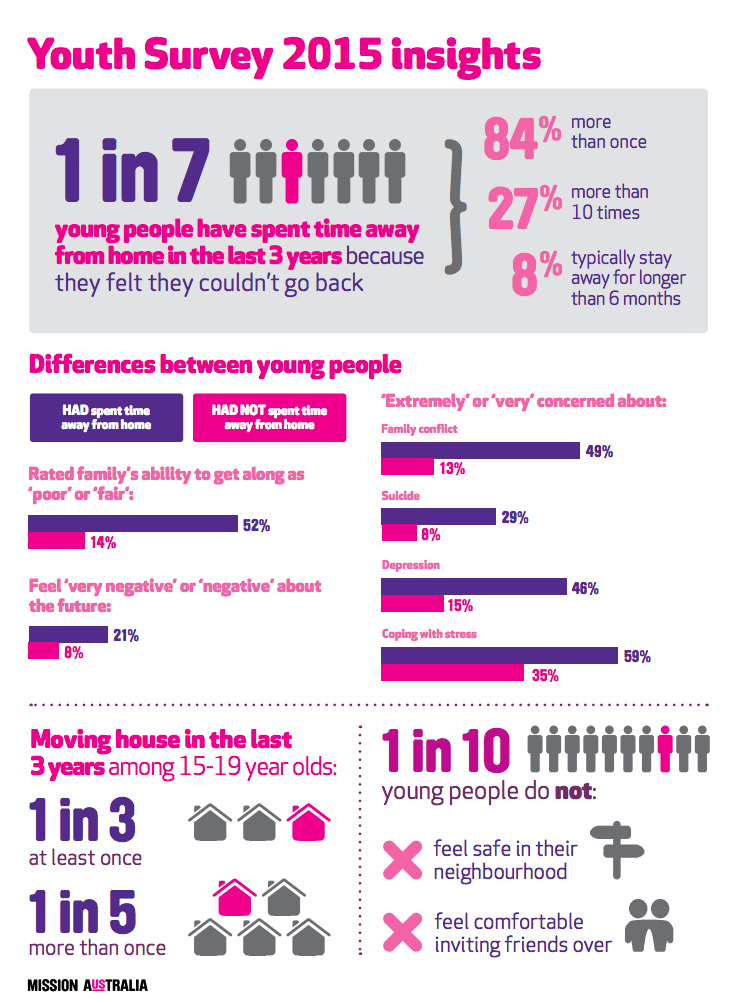 Information in the infographic comes from Mission Australia's 2015 Youth Survey, which had a sample size of over 18,500 youth. The organization conducts surveys with young people aged 15 to 19 annually, and has a different focus each year. This year the survey looked at the housing experiences and home life of young people across Australia. Researchers found that 1 in 7 young people had spent time away from home in the last three years because they felt they couldn't go back. Among these youth, 8% stayed away for longer than six months and a startling 27% spent time away from home more than 10 times. Evidently, youth who have experienced critical housing situations in Australia are not a homogenous group. The same is true for youth in Canada who are living in homelessness.
The infographic makes note of the difference between young people who had spent time away from home and the young people who had not spend time away from home. Youth who had spent time away from home were more likely to be very concerned about family conflict, suicide, depression and coping with stress. There are likely two main contributors to these findings: 1) conflict in the home setting led to kids leaving home and 2) living in the absence of supports traditionally found in the home can be extremely detrimental to the physical and mental health of an individual. This may in fact increase the risk of entrenched homelessness for youth who frequently spend time away from home.
The infographic also states that 21% of youth who had spent time away from home expressed that they felt 'very negative' or 'negative' about the future. On the other hand, 45% of young people in this group had positive feelings about their future! This demonstrates the incredible resilience of many youth who are living in critical housing situations.
There is a tendency, at times, to portray youth living in homelessness as different from other youth. However, the similarities between both groups far outweigh the differences. Just like housed youth, homeless youth have goals, dreams and aspirations. Australian and Canadian youth living in homelessness face similar challenges and gaps in the social safety nets of their respective countries. Working together with youth on identifying problems early, quickly intervening with the right services and providing suitable housing as needed can help these youth make their aspirations attainable.