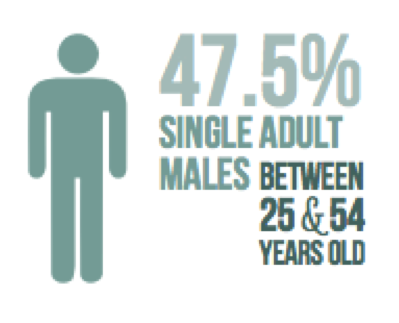 The largest group of homeless people are single men. According to the State of Homelessness in Canada: 2013 adult men between 25 and 55 years of age represent almost half (47.5%) of the homeless population in Canada.  
A study that explored only homeless shelters
found that in 2009, 73.2% of shelter users 16 and older were male. The gap between males and females widens with age so that while males make up 60% of the youth population in homeless shelters, they make up nearly 80% of adults over 55. 
As with every population, there are many reasons that lead single men to becoming homeless. These can include systemic issues such as an inadequate supply of social housing; low vacancy rates and high rents; a lack of funding for supports for people with mental health issues; the inadequacy of the addiction treatment system; and, the inadequacy of social and economic supports to prevent family breakdown. It has been found that as a population men have "greater incidences of mental illness, addictions and disability, including invisible disabilities such as brain injury and FASD (Fetal Alcohol Spectrum Disorder)."
Register for the Community Workspace on Homelessness to discuss single men in homeless populations.