This past summer, Stephen Gaetz and I received a SSHRC Insight Development Grant for a new project, which extends some earlier work we did together when I was the COH's post-doctoral fellow. In our early work, we were trying to identify social and structural conditions that support collaborations between communities and academic institutions. We studied the work that was happening at the Canadian Homelessness Research Network (now the Canadian Observatory on Homelessness), as well as a number of community-campus collaborations across Canada. In our new work together, we will draw on these prior research experiences as we work to better understand how engaged scholarship contributes to social change. What we mean when we say "engaged scholarship" is any strategy or activity that fosters collaboration between academic and non-academic settings. An important part of this is understanding how wider political-economic relations influence people's collaborative efforts to move knowledge into action. We are working closely with the new COH post-doctoral fellow – Kaitlin Schwan – to carry out this work.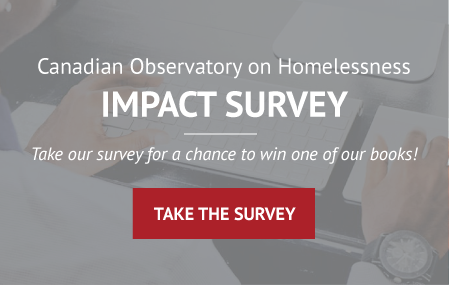 In this new research, our goal is to get underneath popular concepts like social innovation, collective impact, knowledge mobilization, evidence-based practice and research impact in order to find out how people actually work together to influence positive social change. This includes investigating how people use knowledge and research as part of social and political change. Unless we understand how working together contributes to social innovation and change, we won't be able to improve the work we do or the partnerships we form, or effectively extend our collective efforts into other spheres where our work might matter. We want to understand whether and how particular activities (e.g., me writing this blog) actually contribute to changes in how people think about and do their work. In fact, we are conducting a survey on the impact of the COH and the Homeless Hub this month and would love your help! The survey asks you to share if and how the COH or the Homeless Hub has impacted your work, and how we can do so more effectively.
This research project begins with the observation that while many people are mobilizing research and knowledge for positive change, this work requires extensive social, financial, and intellectual commitments. There is seldom enough time for participants in these complex initiatives to reflect on the successes and challenges of their work. As a result, we have limited knowledge of the precise ways that our collective efforts contribute to the changes we want to see (e.g., preventing and ending homelessness).
Through this study, we want to find out:
What are the actual things people do as part of collective efforts to solve complex social problems?
How do the things people do shape the social changes that they are trying to make?
How do social, institutional, political, and economic relations shape this work and influence how processes of social transformation unfold?
How do we bring these complex social and political processes into view so that we can all learn to do the work more effectively?
To address these research questions, we will talk to people who participate in collective social change initiatives about:
The changes they are trying to make;
How their initiatives developed historically – for example, the things people did to create a collaborative model – and the policy, funding and social contexts that influenced this development;
What people actually do, day-to-day, as participants in these initiatives;
How people organize their individual work and responsibilities to support the broader aims of a collaboration;
How they know their work is making a difference (with concrete examples); and
How they know where the work needs to go next.
To provide additional context, we'll be looking at the organizational, economic, institutional, and policy effects that background and shape their ability to make change. We will also pay attention to the flow of ideas, diffusion of practices, and a variety of communication techniques.
To help us understand how research-to-action processes actually work, we'll be experimenting with a few different mapping techniques such as those used to track the movement of disease in spatial epidemiology, diffusion analysis, network analysis, and drawing on developmental evaluation work being done in the non-profit sector.
Ultimately, this research will produce a series of case studies that will serve as a demonstration project or a real-time lab. In the pilot phase, we are beginning with two cases (Exeko in Montreal and the COH in Toronto). In a face-to-face knowledge exchange between the two projects, we will be working collaboratively to articulate how the demonstration model will look, feel and function, what it will seek to convey, and how we anticipate people will use it. My hope is that we can create web-based demonstration cases that can be continuously updated and evolved as the projects themselves evolve. As we advance this aspect of the work, we will also be building a collection of tools, which we've found useful to capture and convey the relationship between particular activities and the changes they've produced or influenced. To be honest, we are making this part up as we go along – that is, we will be learning about innovation by trying to do something differently, ourselves.
To learn more about this project, please contact me at naomi.nichols@mcgill.ca.