The Homeless Hub's mission is to make research matter. How this happens involves many layers. Typically, research is published in academic journals. It's written in a language that is intended for academics, and is often obscured by a pay wall. Accessing and using research can be challenging for policy makers, service providers and average users alike.
For an organization interested in creating an impact with their research, an academic journal may not be the best route to take. Traditional approaches to academic publishing are not the best way to get research into the hands of those who need it most. The way research is written, designed and disseminated needs an overhaul.
As we've learned at the Homeless Hub, a collaborative process between researchers, graphic designers and communications specialists is key to mobilizing research – an approach also known as 'design thinking'. We integrate design thinking into everything we produce: from ebooks and reports, to videos and infographics and everything else in between.
Beginning with the content creation phase, we work directly with researchers, community members and organizations to produce content in plain language. We also engage our peers in reviewing our content, to add legitimacy and validity to our reports and books; however, unlike traditional academic journals who charge a hefty fee to access such works, the Homeless Hub's work is guided by an open access policy, which allows users to download, share and use it (with attribution) for free.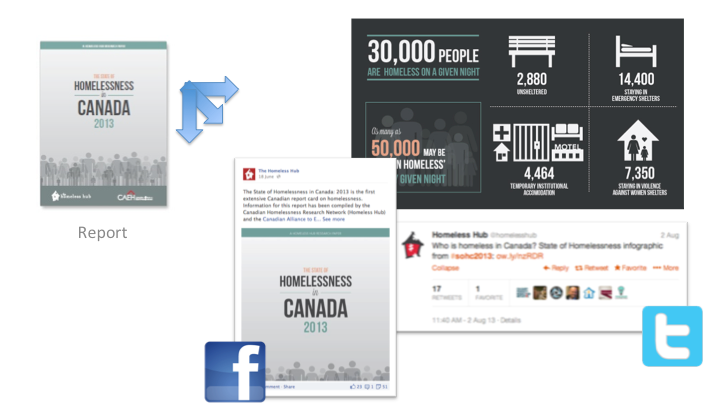 When it comes time to put out the work, we produce a variety of related pieces to catch the attention of ourbroad audience. A report, for example, might have a video component, an infographic, or an accompanying blog post, all of which are meant to be shared via social media. This layeringof pieces allows our audience to go as shallow (i.e. reading the infographic) or as deep (i.e. reading the full report) into the content as they wish.
Strong graphic design is important to these layers. Not only does it ensure a cohesive look between all of the layers, but it also allows us to highlight key messages and results within the research. Our Cost of Homelessness in Canada report is a good example of layering in action. The report's look was applied to a complementary video andinfographic, along with separate graphics that were created to be social media friendly to further encourage the sharing of our content.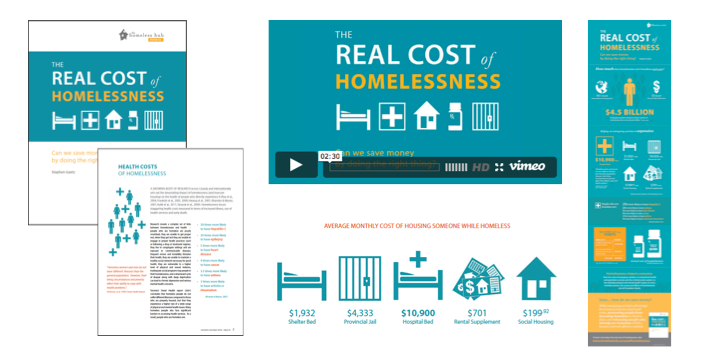 It's important to us that our content is shared. The Homeless Hub takes a strategic approach to marketing and communications with each project, report and book. We coordinate the various layers in time for their release in order to reach our audience and to create the greatest impact. While we rely heavily on social media to distribute our work, we also engage with traditional mediain order to reach an even larger audience.
What have we learned through all of this?
Understanding our knowledge mobilization efforts' impact on policy and practice is quite challenging, but it is also of great importance. We use Google Analytics to track visitors and content downloads on the Homeless Hub and to gain a better understanding of the type of content our audience is in search of. These types of metrics don't help us understand if a particular report had created a change in policy or practice, but this is research that we plan to undertake in the near future.
What we have learned is that a design thinking approach works very well for knowledge mobilization. As an alternative to traditional publishing, researchers have a variety of tools at their disposal designed to increase the reach of their research.
For more on the Homeless Hub's use of knowledge mobilization and design, see forthcoming paper by S. Gaetz. Knowledge Mobilization as Design: the Case of the Canadian Homelessness Research Network.