The COVID-19 pandemic has created a shift to a virtual world where social media has become one of the main ways to communicate and connect both personally and professionally. Platforms like Twitter, Facebook, LinkedIn, Instagram and more recently, TikTok, are commonly used to collaborate with others, share content, and raise awareness for different causes —including homelessness. There is the potential to reach thousands of people using a single post. This leads one to wonder: how can social media be used to mobilize homelessness research?
In the first of a two-part blog series, the benefits of using social media for mobilizing research will be unpacked. 
Benefits of Social Media For Researchers
Previous research has looked at how people experiencing homelessness use social media and the ways that social media-based interventions can be used to reach this population. However, social media can also be beneficial for homelessness researchers. In 2018, Research Impact Canada hosted a webinar emphasizing how social media should be seen as a primary knowledge dissemination tool rather than simply a complementary strategy to other traditional methods used to share research findings (e.g., conferences and academic journals). According to Research Impact Canada, the top 3 benefits of using social media to share research, as echoed by other research, include:
1. Sharing research through social media makes it more accessible to a wider audience. Social media allows researchers to receive feedback from individuals who might not have heard about it otherwise.
 "In some ways social media is the great equalizer. It acts as a way that all kinds of folks can have a platform and I get to be a part of that." - Erin Dej, Associate Professor at Wilfred Laurier
2. Using social media to share research can also help increase the likelihood that the research is seen by decision-makers. This, in turn, increases the likelihood that research findings will be utilized and implemented.  
3. Social media is a faster way to publish research in comparison to more traditional methods. For example, writing a blog post and sharing it on social media takes less time than writing a manuscript for a journal or preparing for a conference. A blog post may also have wider reach as it is more accessible: the language is simpler; the sentences tend to be shorter and there is no pay wall restricting access.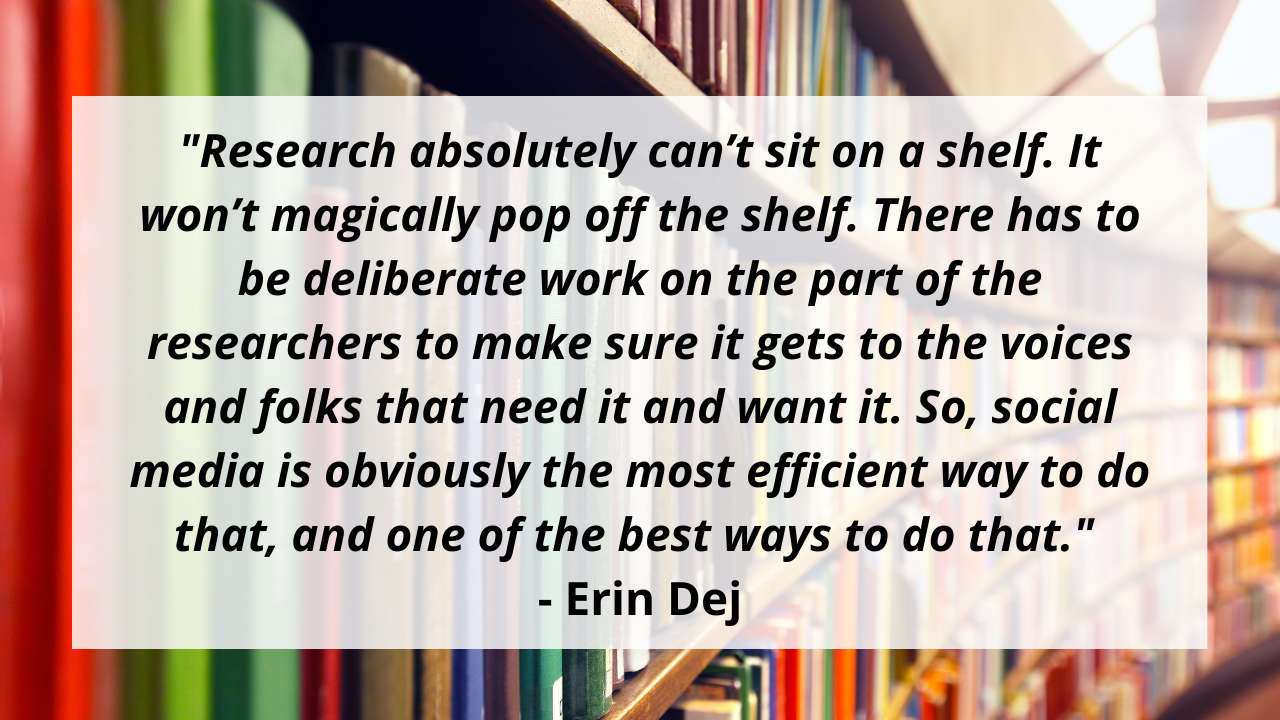 Benefits of Social Media for Organizations
Organizations that provide services to people experiencing homelessness can also benefit from using social media to share their work. Michael Braithwaite, CEO of Blue Door Shelters, the largest emergency housing provider in York Region and host of the weekly Out of the Blue podcast, explained that his team started their podcast to share best practices to prevent and end homelessness.
Michael explained that social media can be a fast and cost-effective way for organizations to:
Reach a lot of people

Change the way homelessness is understood by the public 

Inspire people to take action to support people experiencing homelessness
Each episode of the podcast takes approximately 2 hours to develop and even during the pandemic, they have featured guests from around the world.
"One of the beautiful things about podcasting is that especially now with Zoom [it can be done] any time, any place...[a guest] doesn't have to show up at the studio...It's very simple for people to take part" - Michael Braithwaite 
Now 100 episodes in, Michael's advice about the key to using social media as a knowledge mobilization tool: "If you're going to do it, go all in." 
However, you do not have to create something as complex as a podcast to reap the benefits of social media for disseminating research. If you don't have a communications team or training in communications, it is acceptable to start smaller and work towards something more complicated, like a podcast or blog. One way to disseminate research quickly through social media with limited resources and/or knowledge of this space, is to pair a quote from a research paper with a simple image and tweet it out. This is a strategy that we sometimes use here at the Canadian Observatory on Homelessness, despite having a knowledgeable communications team. This allows us to share the key messages of the research in a simple way that is easy for our audience to understand.
Moving Forward 
Social media is a powerful and far-reaching tool that can help turn research on homelessness into actionable change by providing a platform for researchers to connect with community partners, leaders, funders and decision-makers. Additionally, organizations on the frontlines can utilize social media to change the narrative about the realities of homelessness and encourage people to take action. Social media will likely remain the easiest, most cost-efficient way to connect with large groups of people, so it's a worthwhile investment for researchers and organizations looking to share their messages far and wide. 
Stay tuned for part two in the series: How to Use Social Media to Mobilize Research, coming soon!