Written with contributions from Tanya Gulliver-Garcia
The deaths of two men in Toronto who appear to have been homeless has people questioning Toronto Public Health's strategy for issuing cold weather alerts. A possible third death in Canada was reported by CBC's The National in a news report this week but no further information was provided.
According to a Toronto Star weather report, this week has been the coldest in Toronto so far this winter (with winter weather warnings in every province right across the country). On Tuesday, Environment Canada issued an extreme cold alert for the city and a large portion of southern Ontario. Wednesday was the worst with temperatures dipping to around -30 (with windchill) at times. One man died Monday and the other Tuesday, before any alerts had been issued for the city. Extreme Weather Alerts are generally called  between 6 and 7am daily and come into effect when overnight temperatures are forecasted below -15C. 
People gathered at Mayor John Tory's office on Tuesday to protest the lack of warming centres after the discovery of the second death. In a CTV News video of the protest, Gaetan Heroux from the Ontario Coalition Against Poverty is shown saying: " "Your program of 15 below is not working. You just had two people die on the streets." Mayor Tory pre-empted the cold weather alerts by requesting that warming centres be opened regardless of temperature. 
Public Health officials, however, are standing by the city's existing criteria. Howard Shapiro, Toronto's Associate Medical Officer of Health, told Globe and Mail reporters: "We don't know at this point what the exact nature or the cause of their demise was so it's hard really to speculate about the cold…I think the other thing, too, is we don't know about what impact calling the alert would have on the outcomes for these men if one were in effect."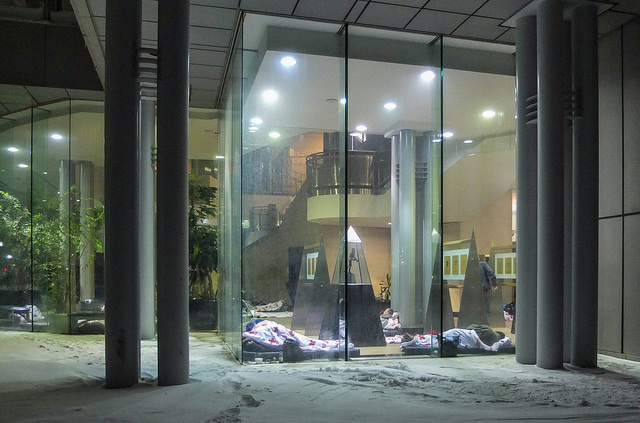 Although, as Tanya notes in this post, we don't have substantial data about how many people die from the effects of extreme cold, the importance of using weather alerts cannot be understated. Toronto's shelter system is chronically underfunded and overcrowded, and there is an ongoing affordable housing crisis. One of the biggest issues in Toronto is that shelters are operating at well over 90% capacity despite a motion to increase shelter spaces when that threshold is reached. This policy was passed more than a dozen years ago and was reaffirmed in by a 36-3 vote at city hall in April 2013. Toronto's 28 year Out of the Cold program is full. There is no more room.
When an extreme cold alert is issued, two 24-hour drop-in warming centres open, shelters ease their service restrictions and transit tokens are available at drop-in sites. A third drop-in will open in late January with a focus on youth. While it's true that we don't know if either man would have used these emergency services, they would have at least been available. 
Ed Keenan criticized Toronto's extreme cold criteria in his Tuesday column, in which Shapiro is quoted as follows: "We're trying to have a system where these alerts only come up so often." This is in significant contrast to Mayor Tory's comments in the Globe and Mail: "I would assume [the criteria] would be exercised in favour of homeless people…I would hope that those criteria are being applied as they have in the past. There certainly has been no hesitation in the past to declare a cold-weather alert."
Keenan goes on to describe the reaction of Cathy Crowe, who was "aghast…to hear that they planned to adhere stringently to the -15 guideline, even though the city's instructions seem specifically to give them flexibility to declare an alert because of other factors like wind and sustained cold over multiple days." Combined with these factors, a temperature of -15C does indeed seem arbitrary and, as this week as shown, ineffective.
In Tanya's post on helping people in extreme weather, she points out that initiatives in other cities provide emergency services at significantly higher temperatures: In New Jersey, -7; and in DC, below 0. Toronto's new Cold Weather Plan states "Extreme Cold Weather Alerts may also be issued at warmer temperatures when Environment Canada's weather forecast includes one or more factors that increase the impact of cold weather on health, such as:
Wind chill;
Precipitation;
Low daytime temperatures;
Days/nights of cold weather in a row;
Sudden cold weather."
Part of the conflict in alerts being called may stem from a recent decision to move control of calling the alerts from Shelter, Support and Housing Administration to Public Health. This was seen as a way of separating out the technical weather aspects from the impacts on service provision. Public Health's sole job is to determine, based on Environment Canada forecasts, whether or not to call an alert.
However, the plan allows the city's Shelter, Support and Housing Administration division to "extend additional services to their clients at any time that they perceive weather conditions to create a risk for the populations that they specifically serve" (i.e. open warming centres and other services) regardless of what is done by Toronto Public Health.
I don't see any reason why Toronto can't adjust its criteria and offer these services at higher temperatures, especially when winds and sustained cold increase the effects of weather, especially on people experiencing homelessness. Hamilton, just a short drive away, allows for alerts to be called at -15C or -20 with windchill.
Of course, all this questioning points to the painful fact that our existing services simply aren't working in the long term. While an emphasis on emergency services over prevention and a serious lack of transitional and affordable housing ensures we remain stuck in a cycle of poverty, homelessness, and loss, it is a necessity in the meantime. As the Homeless Hub's 2014 report, The State of Homelessness in Canada, notes, we can end homelessness, if we want to. In Toronto, this might start by adjusting extreme cold criteria, but we can't let it end there.  
What is happening in your community? How are cold alerts (or other weather related emergencies) determined? What additional services are provided to protect the most vulnerable?
Photo credit: Bruce K on Flickr