On August 8, 2023, more than 50 women and gender-diverse people joined us at the Calgary Women's Centre for a Town Hall on the Right to Housing with Federal Housing Advocate Marie-Josée Houle. 
This community-led discussion invited lived experts, frontline workers, advocates, service providers, and researchers to speak about their insights and solutions to the housing crisis in Calgary, particularly on issues related to encampments, the financialization of housing, and the right to housing.
Women and gender-diverse people continue to be disproportionately impacted by the housing and homelessness crisis. Despite this, our experiences continued to be overlooked, and for too long, our needs have been left unaddressed.  
But recently, something historic happened.
The gendered housing crisis has become so severe that the Federal Housing Advocate now recognizes it as one of the top human rights issues in Canada. To this effect, she recently requested a Human Rights Review on the Government of Canada's failure to prevent and end homelessness among women and gender-diverse people. 
This Review will be the first gender-focused review of its kind in Canadian history, examining the critical housing issues that disproportionately affect women and gender-diverse people across Canada. The Review will provide recommendations to the Minister of Housing, who is obligated to table his response at the House of Commons and the Senate within 120 days. This means that the evidence can't be ignored, and the recommendations must be addressed.
The Advocate is committed to putting lived experts at the forefront of human rights review processes and believes that centering their voices is critical to forging a path forward: 
"It can't be a top-down approach. Making assumptions about people, what they want and need in order to thrive, let alone survive… that has never worked." – Marie-Josée Houle, Federal Housing Advocate  
In preparation for the upcoming gender-focused review, our Town Hall gave rights-holders the opportunity to come together, discuss potential solutions to the housing crisis, and share their expertise with the Advocate. The Advocate also participated in a smaller roundtable discussion  to gain insights for her ongoing review of human rights violations in encampments.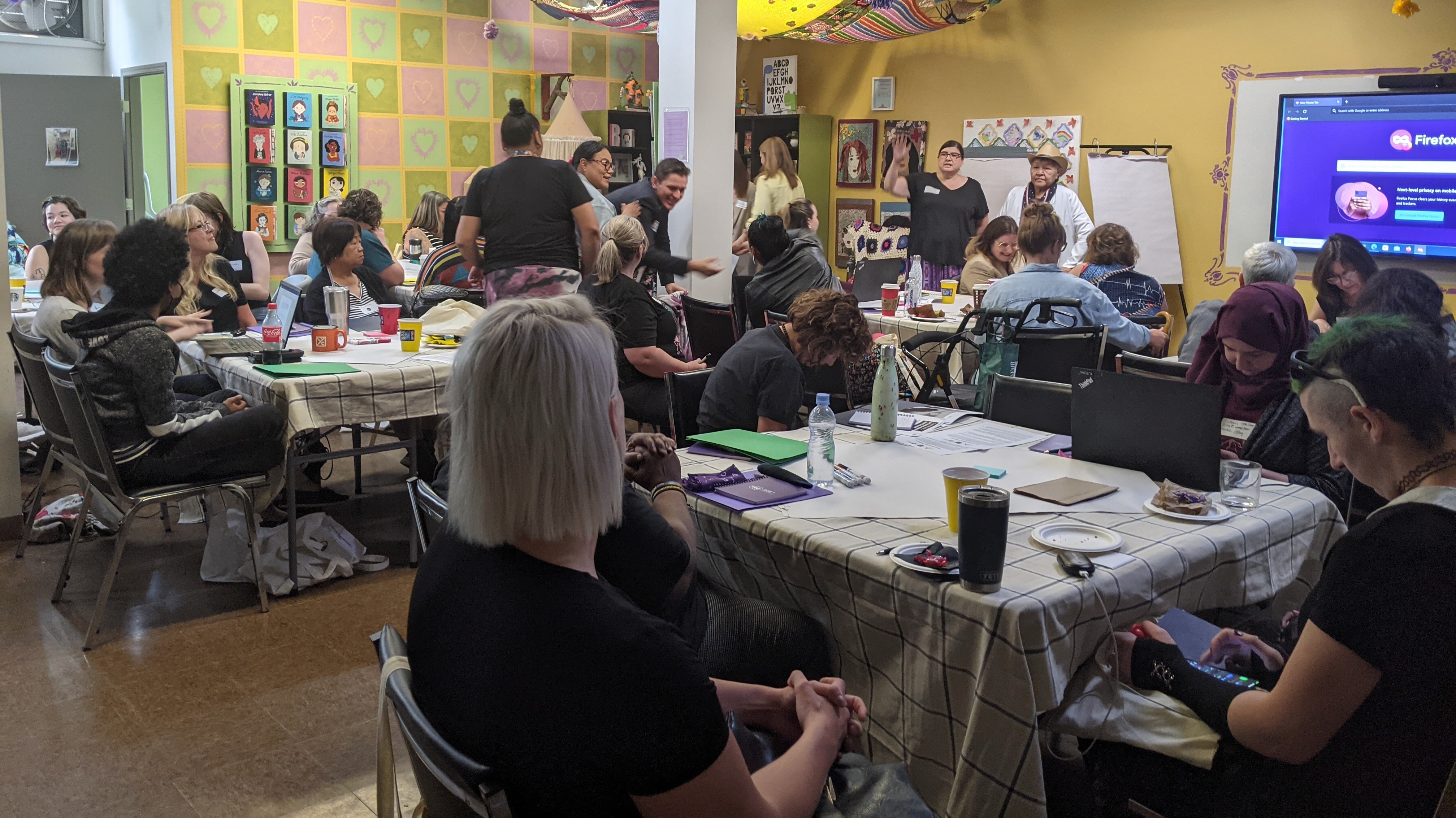 Calgary Town Hall - What We Heard 
 
The Right to Housing Town Hall in Calgary focused on two overarching themes:
Understanding the Landscape: What is the scope and nature of the gendered housing crisis, and what factors are contributing to it?
Solutions: What is needed to end the housing crisis for women and gender-diverse people?
Understanding the Landscape 
Participants identified many key pathways and barriers that led to housing precarity and homelessness for women and gender-diverse people in Calgary. Discussions highlighted the systemic nature of the housing crisis and an urgent need for more adequate supports for women and gender-diverse people experiencing crises. Some key points raised by participants were:
There is not enough action, accountability, and transparency  from the government regarding how policies and investments are tangibly addressing the housing crisis. 
Decision-makers often don't understand the experiences of those who are marginalized, and don't meaningfully engage with them. 
There are simply not enough supports available for people during crisis situations, resulting in loss of life and tremendous trauma for many women and gender-diverse people. There is also an urgent need for tailored supports for specific populations, including women with disabilities, Indigenous people relocating to urban centres, and newcomers.
Rental housing is unaffordable and the barriers to home ownership are too high. This is particularly pronounced in Alberta, which lacks rent control.
Incomes are not rising to match the rapidly rising inflation rates and cost of living.
There needs to be more seamless collaboration across services (e.g., shelters connecting with health care) to adequately meet people's needs.
There is rampant discrimination and exploitation by landlords in the housing market, including on the basis of race, children, and source of income.
Solutions to the Crisis 
Participants shared that Canadian governments, and society more broadly, need to make major changes in order to effectively address the gendered housing crisis. Support and investments commensurate with the severity of the crisis are critical. People with lived experience must be at the forefront of decision-making processes, and we must stop positioning housing as a means for profit-generation. Here are some key points participants highlighted: 
Frontline workers need specific training on how to help those who are facing gender-based violence and discrimination, including trans and non-binary folks who experience profound barriers to support.
There needs to be more investment in different housing models that are responsive to the diversity of challenges faced by women and gender-diverse people, including specifically supportive housing.
There needs to be tailored wraparound supports to meet the specific needs of marginalized populations.
Empathy, compassion, and a sense of community needs to be fostered amongst the general public, which can be supported through education and advocacy about homelessness and its causes, conditions, and consequences.
There needs to be stronger regulation of the housing market and landlords in particular, and the subsidizing of corporate landlords needs to end.
Governments must stop finger-pointing at other levels of government and must work together to resolve the housing crisis.
"The government needs to understand that they created these issues of inequity and they are complicit in maintaining them- corporate greed, capitalism, racism, these ARE the barriers. We're not going to change the system from the inside out… we need a bottom-up approach." -Town Hall Participant
Encampments Focus Group
In the roundtable discussion on tent communities and encampments, people shared powerful insights about the challenges they're facing in securing housing and why many find themselves living in encampments instead of shelters. They highlighted the gaps and barriers within current emergency supports, and the reasons why living in encampments often becomes the safer option: 
"You're not able to run away at a moment's notice if you need to, and you're very vulnerable to violence. You're just put in beds, no escape routes, no exits… there is no sense of safety."- Town Hall Participant
In her reflections on the session, the Advocate spoke to how this discussion highlighted a need for a cross-disciplinary, rights-based, and "bottom-up" approach to addressing the needs of people living in encampments. 
So, what happens next? 
The Human Rights Review on homelessness among women and gender-diverse people will take place in the coming months. Lived experts and allies across Canada will be invited to provide written and oral submissions for this review, meaning that your voice is needed!
Want to get involved? 
In the coming months, the WNHHN and NIHN will be organizing across the country to support evidence-gathering from people with lived/living experience homelessness and their allies to participate in this exciting human rights process. Here's how to get involved:
 
Watch our informational webinar to learn about the human rights process and how to get involved
Invite us to attend a meeting with your group, organization, or agency! We can provide an overview of the process and how you or your group can get involved. Contact us at info@womenshomelessness.ca.
Join our mailing list and follow us on social media to stay up-to-date!