Children who are homeless face substantial barriers to education. Wendy Giebink, a McKinney-Vento school liaison, ensures that these barriers are minimized as much as possible. For 15 years, she has work to uphold the educational rights of homeless children. This HRC feature highlights Wendy's work, as well as a brief documentary that she created with her son.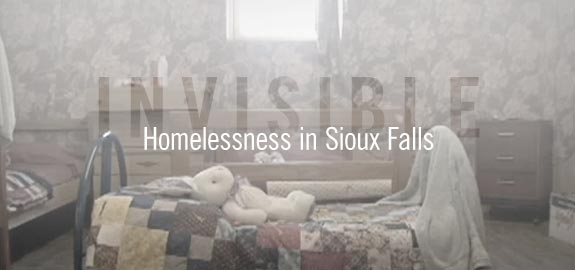 The McKinney-Vento Homeless Assistance Act, reauthorized at Title X, Part C, of the No Child Left Behind Act in January 2002, is the primary piece of federal legislation dealing with the education of children and youth experiencing homelessness in the U.S. public schools. For more information, visit www.naehcy.org.
Check out "Invisible," the documentary that Wendy Giebink and her son created:
Wendy Giebink, a liaison under the McKinney-Vento Homeless Assistance Act for the public schools in Sioux Falls, South Dakota, has been removing barriers to education for the last fifteen years.  Her task? To uphold the rights of young people who are homeless so that they may remain in school. "The McKinney-Vento Act gives some teeth to this task," says Wendy as she describes her efforts to identify young people who are in homeless situations. Children who are identified by Giebink may be doubled up in a home with another family, living in shelters, transitional housing, hotels, or on the streets.
In these contexts, Giebink ensures that the youth she is working with may remain in their school of origin, have the right to transportation, and can enroll in school within 24 hours of applying whether or not they have all of their records. "Many kids do not know the name of the last school they attended," explains Giebink, but this should not be a barrier to enrollment.
Giebink is also responsible for helping young people to be successful in school. Success in school for children who are homeless means that Giebink is paying careful attention and provides referral services for housing, food, clothing, medical care, school supplies and assistance with extra curricular activities.
"Every day is a little different," says Giebink, "but the thing that motivates me is the courage our families display. I often wonder how long it would take me to give up. People are getting up every day and they keep trying and that keeps me coming back. What's discouraging is that at the end of the day, I have a house to go home to, and there are still kids out there who are homeless."
If she has moments of feeling discouraged, it does not show through her enthusiasm and commitment to improving the lives of the people she works with. Wendy is part of the Mayor's Homeless Advisory Board in Sioux Falls, and with the talent of her son, Skye Giebink, created a short and poignant documentary film about homelessness in Sioux Falls.  Giebink and her son spent countless hours planning, interviewing, shooting and editing the seven minute documentary, called "Invisible". http://www.youtube.com/watch?v=TNwyk_bVlsg
"Everyone we asked to participate revealed a very personal part of their lives in the making of this film," offered Giebink. While it may have been difficult to share such details in a small community, the participant's courage stood out to Giebink and her son. "Everyone said the same thing, namely that the reason they were willing to do this was 'in the hope that I can help someone else so that they do not suffer, as I have suffered.'
Since its creation, Invisible has been shown in schools, churches, hospitals, workplaces and training sessions, reducing the invisibility of human beings who deserve to been seen and housed.