Learn about the awe-inspiring, innovative ways that communities around the U.S. are resolving homelessness for their most vulnerable citizens. Catch the can-do spirit of the 100,000 Homes Campaign – a grassroots movement to spur communities to dismantle barriers and break the old rules in order to secure housing and support for individuals who are chronically homeless. Find out how you can become part of the Campaign.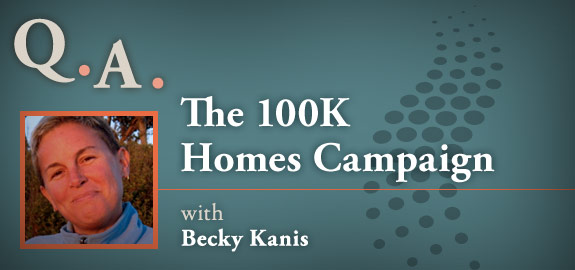 The 100,000 Homes Campaign officially launched in July 2010 with the goal to find, and house, 100,000 of the most vulnerable individuals who are homeless in the U.S. in the next three years. Becky Kanis, with Common Ground in Los Angeles, is the campaign's director. Becky brings hands-on experience, wonderful energy, and strong leadership skills to her role. She describes here what the 100,000 Homes Campaign is all about.
Q. What is the "elevator speech" for the 100,000 Homes Campaign?
The 100,000 Homes Campaign is a grassroots movement to find and house 100,000 of the most long-term and vulnerable individuals who are homeless in our country by July 2013. There are only about 111,000 individuals who are chronically homeless total, so what we're talking about is fundamentally changing our approach to this problem. First we must know who they are so we can begin prioritizing them into housing. The Vulnerability Index is the primary tool we share with communities for creating a registry of everyone affected by homelessness. Then we must house them quickly, eliminating unnecessary steps and reducing barriers.
Q. How does the Campaign work?
The Campaign is simultaneously a grassroots movement to inspire and connect change agents across the U.S. and an ambitious quality improvement effort to find and then quickly house the most vulnerable people experiencing chronic homelessness.
Our field organizing work builds the grassroots movement. Several full-time staff and the campaign leadership team travel the country to meet with change agents, present at conferences, and tell the stories of the amazing transformations that are already taking place. The last Wednesday of every month, we offer a 1-hour orientation webinar. The webinar includes a presentation of what the 100,000 Homes Campaign is all about and an opportunity to ask questions. The call is designed to help change agents decide whether or not they want to be a part of the campaign. All we ask is that participants have an "all teach, all learn" attitude. We need everyone's good ideas!
Q. What's unique about the Campaign?
A couple of things. First, I think it's incredibly bold and ambitious, and I think that has an appeal to many people. I once heard someone say, "Some is not a number, soon is not a time." We are obsessive about the metrics and we use that to drive operations and strategy. I think this compelling vision of "what if we lived in a country where no one had to sleep outside at night, especially not people who are suffering from serious disabilities?" gives people something they've been looking for – a larger sense of purpose and meaning. I've had people tell me, "this reminds me of why I became a social worker in the first place."
But it's not just emotions; serious quality improvement strategies and hard numbers support the campaign! Although 100,000 might seem like an impossible dream, we are currently on track to achieve or surpass that goal by 2013. It all breaks down to the housing placement rate. We need each participating community to move 13 of their most vulnerable people from the streets into housing each month. We think this is very do-able, and all our tools and assistance are designed to help communities reach this goal.
Q. What jazzes you most about this Campaign?
My favorite thing is seeing the before and after photographs of people who were helped into permanent housing as a result of local campaign teams' efforts. When I share the before and after pictures with audiences there is always an audible gasp. We are doing something profound here, and the before and after photographs capture that better than any words I could say.
Another thing that excites me is when I learn that someone has changed a rule that is a barrier. We all know that a lot of the "rules" that affect our ability to help and house people living on the streets are, frankly, absurd. So when I hear that Washington, D.C. waived the requirement for producing a birth certificate and just required a Social Security card -- because they know that Social Security cards are only issued to people who have a birth certificate, so if you have a Social Security card, that's good enough – I get so excited. Or when I hear that Project H3 in Phoenix negotiated a local limited preference with their housing authority to prioritize the most vulnerable for Section 8 vouchers – that is amazing! Everyone needs to do that and we'll be DONE with chronic homelessness before you know it. These little changes make a huge difference for the lives of people on the streets. They are literally a matter of life and death. And that's the vision of the Campaign – no one has to reinvent the wheel – although, by all means, if you come up with something creative that houses more vulnerable people more quickly, please share!
Q. Got a good story?
The best stories are the ones about how people's lives are transformed. Not only about people moving in off the streets, but also the lives of people who do this work day in and day out for a living. And we try to capture these stories on the weekly blog on our website.
But I can tell you about a recent innovations call. We had charted out all the steps the VA says you need to take in order to house a vulnerable veteran using their VASH vouchers. And, it was a LOT of steps! Then we asked everyone on the phone to volunteer if they've done a step faster or – gasp! – eliminated it. People started chiming in with "we don't do step #4 anymore!" and then Nancy Campbell, who is the national director of HUD VASH, spoke up and said, "That's correct, step #4 is not necessary." Then someone else said, "I know step 10 says it takes six to eight weeks, but if you put a cover sheet on the fax that says, "This is a vulnerable veteran in need of housing," the VA will fax it back to you within 48 hours. BAM. DONE. Collectively, the call participants shaved about five steps and seven months off the process to move a vulnerable veteran into housing. All with the head of HUD VASH nodding her head in approval. And the beauty of it is that the webinar was recorded and Nancy Campbell then forwarded it to all her VASH coordinators to say that this is the new standard.
These kinds of things – nerdy though they may be – are really a big deal. The key is that people need to listen in and be thinking, "Is there anything from this call that I can start doing right away TODAY?" We can't wait for other people to do it. Each person in this network is so powerful. We can do this.
Q. How can PATH providers and others learn more about the Campaign?
Easy. Go to our website or become a fan on Facebook. On the website you can find the schedule for the innovations calls, see which communities are involved, learn how you can enroll your own community, or become a volunteer. The Campaign welcomes anyone aboard who wants to be part of the movement to end homelessness.
Is your agency participating in the 100,000 Homes Campaign? How does this effort affect the way you work with individuals who are enrolled in PATH?