Figure 1: Five Conditions for Collective Impact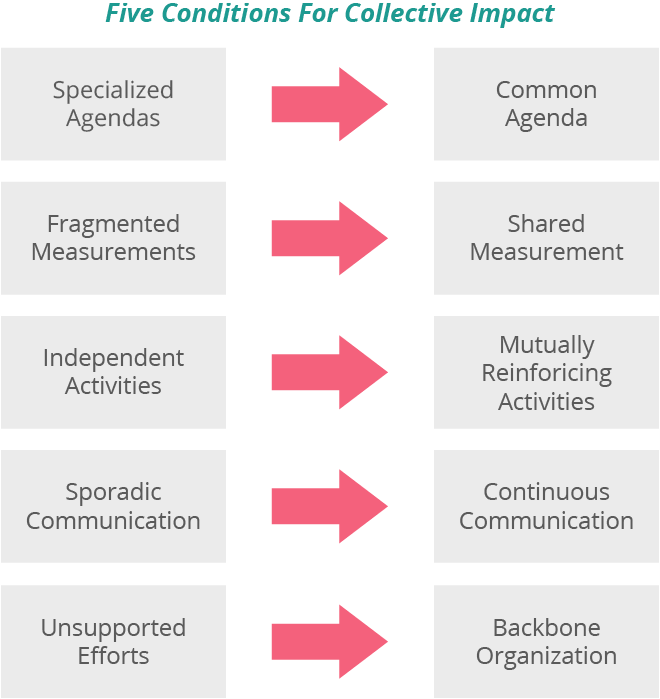 Successful collective impact initiatives typically have five conditions that together, produce true alignment and powerful results:
Common agenda;
Shared measurement systems;
Mutually reinforcing activities;
Continuous communication; and
Backbone support organizations.
These conditions for success provide a useful roadmap for your plan development process. It is wise to build your approach in such a way that it creates the conditions for success of the movement to end youth homelessness, rather than strictly looking at the production of a plan as your only objective.
Table 3: Collective Impact Success Factors & Youth Plans
KEY CONDITIONS

FOR COLLECTIVE IMPACT
RELEVANCE TO YOUTH PLANS

1. Common Agenda:

All participants to have a shared vision for change
Common understanding of the problem and a joint approach to solving it through agreed upon actions
Differences discussed and resolved
Participants agree on the primary goals for the collective impact initiative as a whole
Funders play an important role in getting organizations to act in concert

The planning process can create opportunity for diverse stakeholders (youth, government, funders, service providers, researchers and the private sector) to develop a shared vision around ending youth homelessness, a common understanding of the issue and agreement on a collaborative approach to solving it. The plan becomes the common agenda moving forward. A common agenda is about collective goals, rather than the interests of particular groups or individuals.

2. Shared Measurement Systems

:

Shared measurement system is essential to collective impact
Agreement on ways success will be measured and reported
Collecting data and measuring results consistently on a short list of indicators at community level across all participating organizations
Common systems for reporting performance and measuring outcomes

Plan development creates agreement across stakeholders on system-level metrics and key performance indicators for ending youth homelessness objectives as well as the means of tracking and reporting progress and performance on an ongoing basis across stakeholders.

3. Mutually Reinforcing Activities:

Diverse group of stakeholders working together
Coordination of their differentiated activities through mutually reinforcing plan of action
Each stakeholder takes on specific set of activities where they excel in a way that supports/is coordinated with others

The plan development process brings diverse stakeholders together to define common objectives as well as their particular roles in meeting these. Plan implementation guidance outlines necessary coordination infrastructure to execute the plan across diverse groups.
4. Continuous Communication:

Trust among non-profits, corporations, and government agencies
Several years of regular meetings to build up enough experience with each other
Monthly or biweekly in-person meetings among the organizations' CEO-level leaders
Creating a common vocabulary takes time, essential to shared measurement systems
Time to see interests treated fairly, decisions made on evidence and best possible solution to problem, not to favouritism

Plan development, done well, will create opportunities for diverse stakeholders to develop common language around youth homelessness, surface and/or resolve tensions and enhance communication and mutual understanding. To create a plan, stakeholders rise above personal and organizational agendas to find best solutions. This helps build a foundation of trust and sets up essential coordinating infrastructure for implementation.

5.  Backbone Support Organizations

Coordination requires supporting infrastructure
Separate organization/staff with specific set of skills
Ongoing facilitation, technology and communications support, data collection and reporting, logistical and administrative details
Embody principles of adaptive leadership: focus people's attention, create a sense of urgency, apply pressure without overwhelming, frame issues as opportunities and difficulties, mediate conflict
Highly structured process that leads to effective decision making

Dedicated, highly capable human resources are essential to plan development. Plan development requires backbone supports to provide necessary administrative support to the development process, but also a project manager to quarterback the plan from start to launch, at minimum. Adaptive leadership from a group of decisionmakers representative of the key sectors involved guides the overall direction of the plan and the work of the project manager. Plan champions (leaders who advance plan goals) are engaged strategically to advance common objectives and external expertise is brought in as necessary. Don't underestimate the work required to build and sustain trust with plan champions.